October 29, 2005 - 8:54pm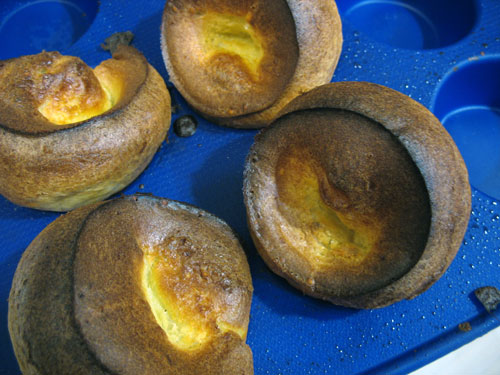 I dig popovers. No leavening at all, just steam.
Popovers Make 1 dozen popovers 1 cup all-purpose flour 1/4 teaspoon salt 1 tablespoon sugar 1 tablespoon melted butter or vegetable oil 1 cup milk 2 eggs
Preheat oven to 375 degrees. Combine the dry ingredients and mix well. Combine the wet ingredients and mix into the dry ingredients until you have a very smooth batter. You can use an electric mixer or eggbeater to do this, do it by hand, or even mix it in a blender.
Pour the batter into greased muffin tins. The tins should only be about half full.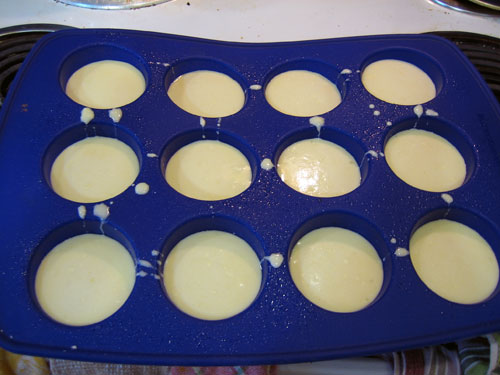 For a light-colored, drier popover, bake at 375 for 50 to 55 minutes. For a darker, crustier but moister in the inside popover, bake at 400 degrees for 40 minutes (as I did in this batch).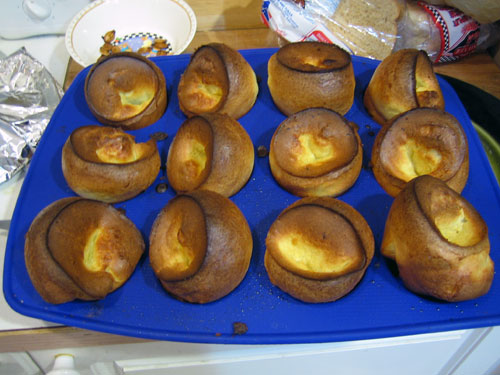 Remove from the oven and eat while hot with jam or butter.