December 1, 2005 - 6:04pm
I saw this recipe for a cranberry coffee cake in The Bread Feed and had to try it.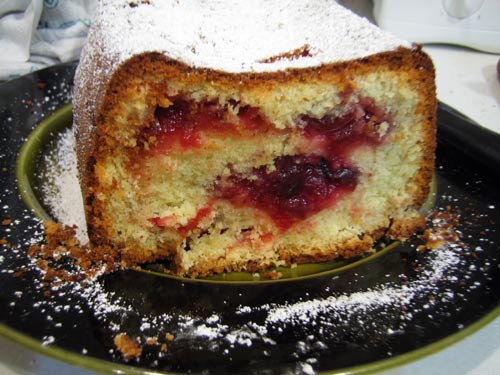 It is very good, more like a light pound cake than a traditional coffee cake. We all enjoyed it very greatly.
I'm going to keep a summary of the recipe here so that I have it in case the original source move or go away, but I definitely want to give credit: I found this recipe via Slashfood, which linked to it on Epicurious, which appears to have gotten it from Gourmet (magazine?). Follow those links for more in depth info on this recipe.
Cranberry Coffeecake 2 cups all-purpose flour 1 cup cranberry sauce 2 teaspoons baking powder 3/4 teaspoon salt 1 stick (1/2 cup) butter 2 eggs 1 teaspoon vanilla extract 1/2 cup milk
Blend sugar, butter, vanilla, and eggs. Mix in dry ingredients to make batter. Alternately layer the batter and the cranberry sauce in a greased loaf pan, and bake at 350 for 1 hour to 1 hour and 20 minutes (mine took that long to bake), until a toothpick inserted into the center comes out clean. Allow to cool for 15 minutes, then remove from pan. Top with powdered sugar.
Mine broke apart coming out of the pan, but the powdered sugar covered up the damage quite nicely. :)