January 16, 2005 - 3:50pm
Orange, Almond, and Olive Oil Cake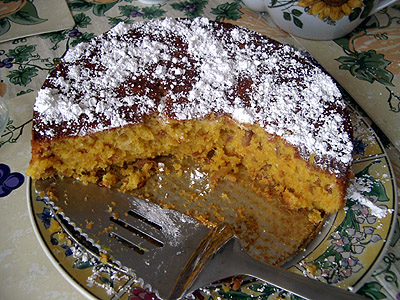 A very tasty cake which earns extra bonus points for making the house smell wonderful and for staying moist for days.
It uses whole oranges and lemon rinds, and almonds and barely any flour for a really interesting taste. Goes great with tea.
Orange, Almond, and Olive Oil Cake
Ingredients:
2 small oranges
1 lemon
1 cup all-purpose flour
1 Tablespoon baking powder
4 eggs at room temperature
1/2 teaspoon salt
1 1/2 cups sugar
1 1/2 cups (6 ounces) almonds, toasted and finely chopped
2/3 cup olive oil
some Confectioners' (powdered) sugar for dusting
- Put the oranges and the lemon in a large pan and add enough water to cover them. Bring to a boil, then simmer and cook uncovered for 30 minutes. (That's the instant air-freshener aspect)
- Drain and let cool so that you can handle them without burning yourself.
- Cut the lemon in half and throw out the pulp and seeds.
- Cut the orange in half and throw out the seeds (but not the pulp).
- Put the citrus into a food processor/blender and chop it up finely, then set aside.
-Preheat oven to 350
-Sift flour and baking powder together into a bowl and set aside.
-In a large bowl, combine eggs and salt, beat until foamy.
-Gradually beat in the sugar.
-Gently fold in the flour mixture.
-Stir in chopped citrus, almonds, and olive oil until just incorporated (The recipe book states here "Do not overmix.")
-Pour the batter into a 10-inch springform pan.
-Bake for about 1 hour and 15 minutes, or until center of cake is set (toothpick comes out clean.)
-Let cool completely in pan on wire rack, then unmold, place on a serving plate, and dust the top with confectioners' sugar.