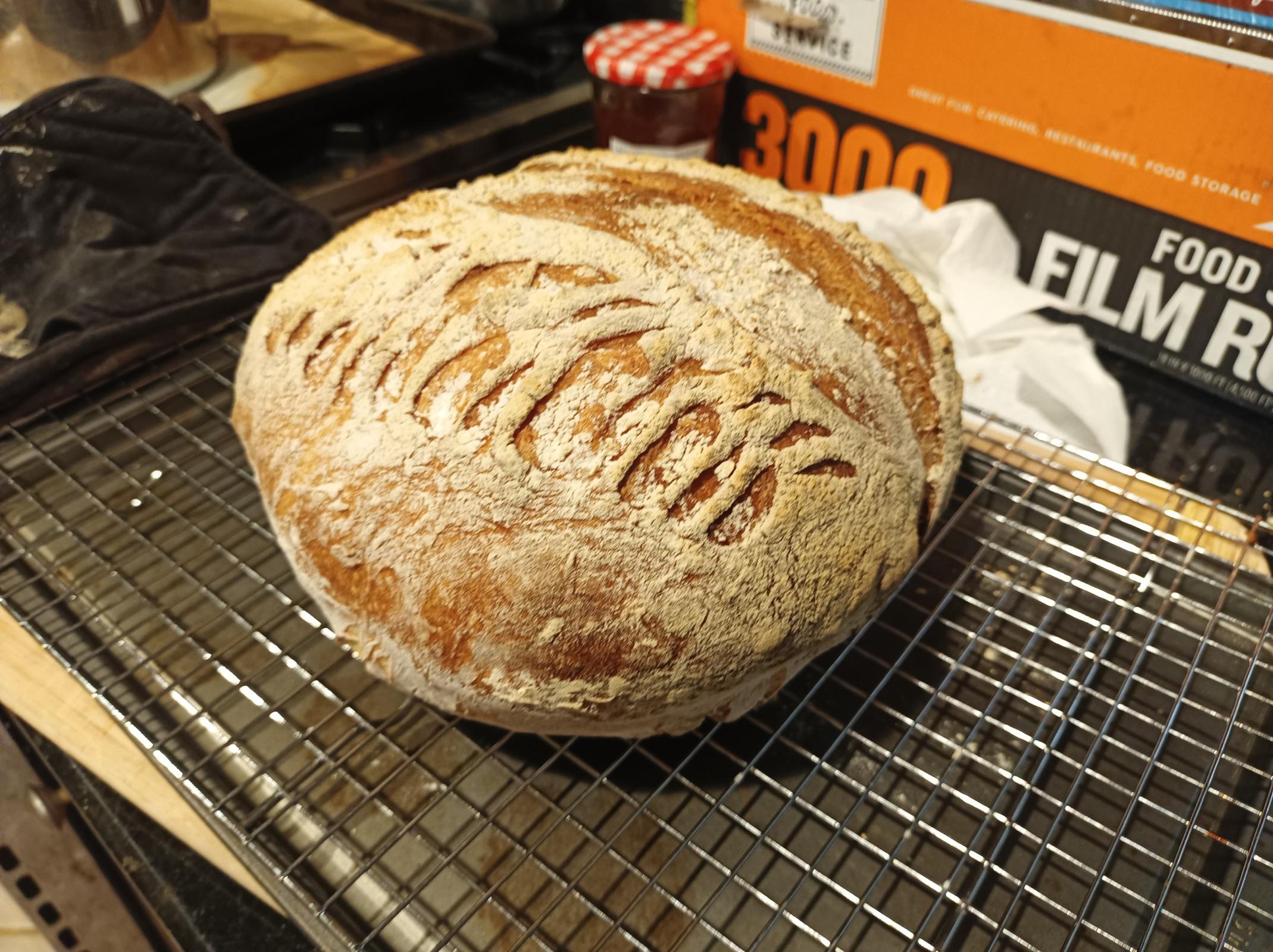 Hello. New member here. Started baking in January of 2023 and have been hitting it hard. Round these parts it's impossible to find decent bread and I just got sick of buying the supermarket presliced "italian" bread. I'm in the burbs just north of NYC so I can go down to Arthur Ave but the traffic is a major burden and it's a bit far away. 
I've been making what I call a paesano boule - a simple peasant bread - and was inspired to try my hand at bread after watching an IG video. I made the bread following the video but didn't like the non-existent soft crust. I then did a little bit o' research and have now incorporated using the dutch oven. I had to modify the recipe as well. 
So the issue at hand is that I am registered as a home processor and want to scale up the production. Here in NY you cannot use any commercial equipment as a home processor. For example, if I wanted to even think about producing enough bread to show up to a farmer's market, I don't know how I would accomplish that without baking 30 hours straight before the market. Currently I only bake one loaf at a time in a Bluestar gas oven because the 9 quart dutch oven takes up a lot of space. My bread is just under 80% hydration and after final shaping and letting the dough rest for about 10 minutes it is still extremely soft and fluffy. I am now using King Arthur Special Patent (12.7% gluten) flour and a simple recipe of salt, sugar, instant yeast, and water. 
I attempted to make bread the other day without the dutch oven. I made two loaves on two separate days. The first loaf came out with an extremely crispy crust. When I went to test it I actually punched a huge hole it was so crispy. The color was not great and was a bit on the dull side. You'll see the comparison of what it looks like via the dutch oven and without. I used a metal pan and poured some boiling water (maybe 2 cups) right after placing my dough on the sheetpan with parchment paper to try and get some steam action. Crumb was tasty and again I was stunned at how crispy the crust came out. The only problem is that it doesn't look as pretty as the dutch oven loaf. 
I guess this site only allows you to post one picture in the main post. I'll have to make several posts then. First picture shows the first bread baked without a dutch oven. Super crispy crust, a bit of a weird muffin/mushroom shape to it, perhaps a bit underproofed.