Struggling with croissants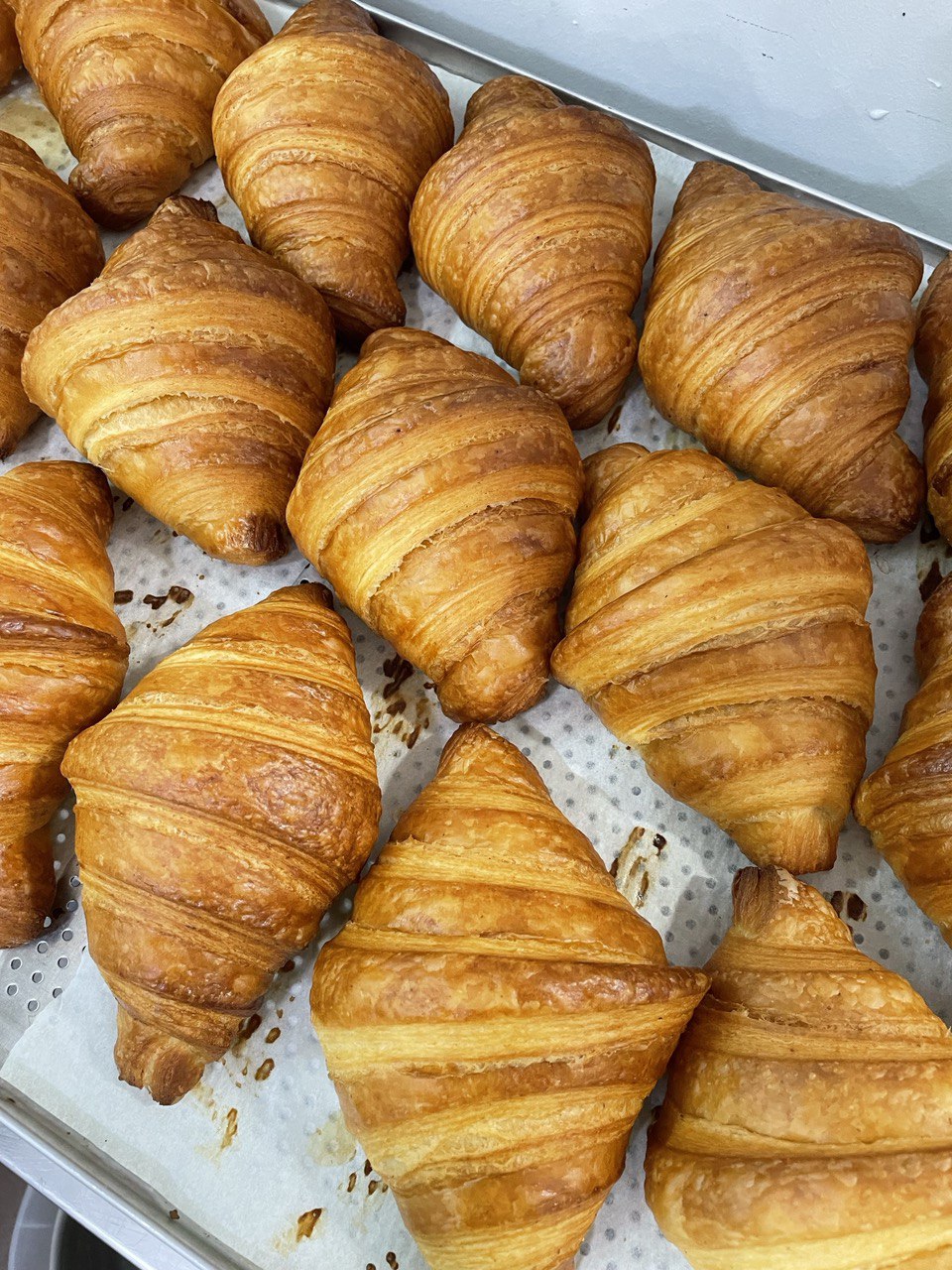 Hey folks! 
I've been working on a croissant recipe for a few months, and I think that I've achieved an okay result so we could start selling those in our bakery, but I still feel that we're not quite there yet. 
I used a formula for poolish croissants from Michael Suas' Advanced Bread and Pastry as a basis, though I made some changes to this formula to make it suit specific ingredients and needs. The biggest change is that I've multiplied the amount of yeast by 1.5 since we're freezing some of our croissants right after shaping and additional yeast is advised. 
Anyway, I bulk ferment this dough for 1 hour. After the dough is fully cooled, I do one double fold and two single folds, with 30 minutes of rest in the refrigerator after each fold. After the final rest, I roll out the dough to 5 mm thickness and 30-ish mm width (to further cut it down to exactly 30 mm). The base of each triangle is 10 cm, with a 2 cm cut in the middle of each base. 
As I said, the result is okay, but there's room for improvement. There are two parts of the recipe I'm struggling with the most.
1. The biggest issue I have is that some croissants collapse after baking, with visible separation of rolls. I usually proof and bake an entire batch, so it probably has nothing to do with either proofing or baking. Either way, there is always a significant number of croissants (though not all of them) which collapse after taking them out of the oven. Those usually (again, not always) start to show some separation during proofing. I've really run out of reasons why it ends up this way. I've experimented with different approaches to shaping (rolling tighter, brushing triangles with water before shaping for better sticking) and it seems not to be the reason after all. 
2. I proof these for about 3 hours at about 27C and 80% humidity. It's longer than most recipes I've read and seems even more weird considering an increased amount of yeast. What mistake could lead to this?
Do you have any advice on how to troubleshoot these issues? Any other feedback or comments will be appreciated.