August 26, 2021 - 10:37pm
Orange Caraway Crusty Biscuits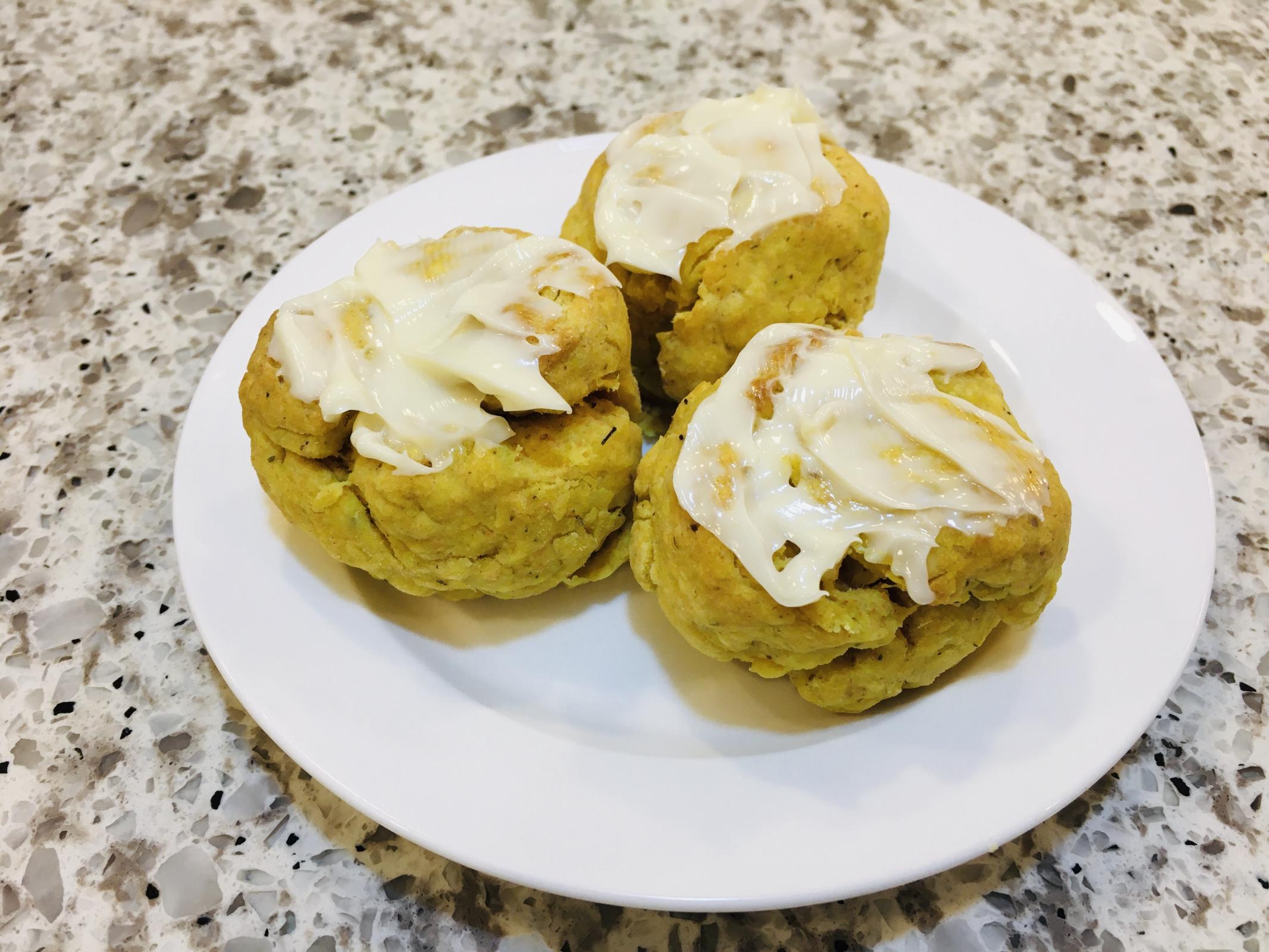 Adapted from the NY Times' "vegan quick biscuits" to blend in some warmer, earthy overtones. They take just 20 minutes to make. The roasted Caraway seed will give your whole kitchen a warm, inviting fragrance that carries through in the bread. You'll need a spice grinder to get the best flavour from the herbs.
2 cups (472ml/240g) all-purpose flour. 
1/2 cup or 120ml orange juice (I used Tropicana w/ calcium). Don't use the kind with extra pulp.
1/2 cup or 120ml shortening or margarine 
3/4 tsp salt
1 tbsp baking soda
1/2 tbsp Caraway seed
1/2 tbsp dried Savory
(optional) 1/2 tsp turmeric, for an even warmer autumn color.
Preheat the oven to 425F.
Take the Caraway seed and heat it on a dry skillet on high temperature for 2 minutes. You should hear them pop and hiss just slightly. Take them off and throw them in the spice grinder for 30 seconds. Take the dried Savory and also grind it to a loose powder if it isn't already powdered.
Mix the ground herbs into the flour with the salt and baking soda. Whisk them so that they're fully mixed. Put the margarine in a bowl with the orange juice and microwave them on high for a minute to get the margarine soft, then fold the wet ingredients into the dry ingredients.
Combine the whole mixture with a fork to cut up the margarine, then use your hands to massage it into a dough ball, aiming for a uniform consistency. Don't worry about it being loose or crumbing or flaking. This is a very dry dough.
Divide it into ball or puck shapes according to taste. If you have a scale, 45-50g dough balls make a nice tea-sized biscuit. 55-65g dough balls make a good dinner biscuit.
Lightly oil or grease a flat baking tray and throw them all in the oven for 13-14 minutes. Serve with butter or margarine on top.
I wish I'd learned to use Caraway seed sooner!