December 5, 2020 - 11:32am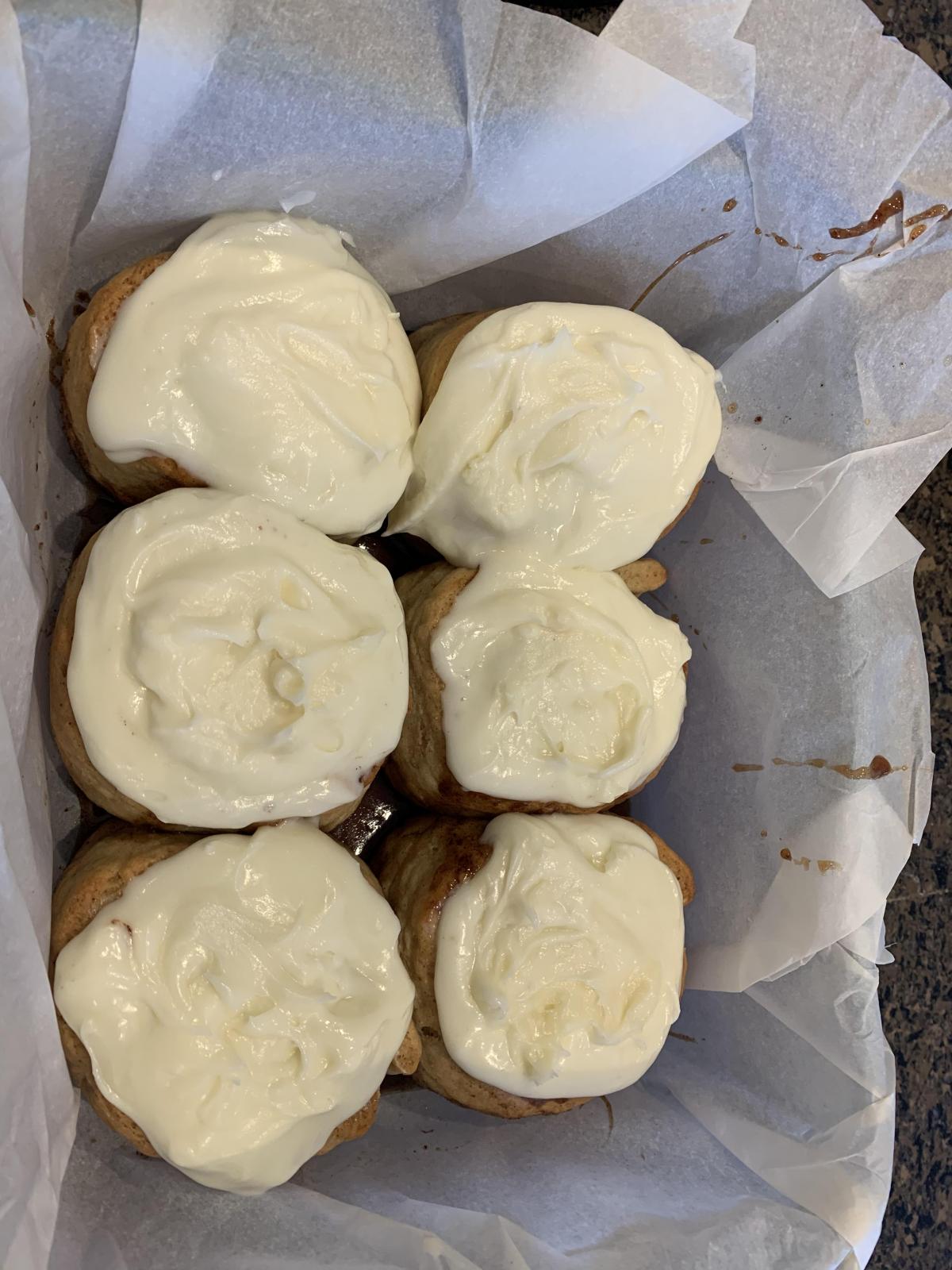 Have been trying my first few loaves of SD bread and felt bad that my gluten sensitive daughter couldn't partake in the sampling.  So, made her a batch of her favorite cinnamon rolls this morning.  The recipe is adapted from this one.  I make a half batch at a time (6 rolls).  https://joyfoodsunshine.com/cinnamon-rolls-recipe/
Cinnamon Roll Dough
124g Skim Milk
155g Domata 1-for-1 Exchange GF Flour (adjust amounts as needed for your own GF flour blend)
65g Bob's GF Oat Flour
28g Bob's Fine Almond Flour
48g Sugar (main dough) + 6g sugar (for yeast proofing)
6g Active dry yeast
1/2 tsp pure vanilla extract
1/2 tsp sea salt
1/2 tsp cinammon
Cinnamon Sugar Filling
115g light brown sugar
8g cinnamon
42g melted butter
(GF dough is fragile.  Brush butter and sprinkle sugar/cinnamon mix is the only way to go)
Cream Cheese Frosting
112g Philadelphia cream cheese (softented)
28g butter (melted)
120g powdered sugar
1/4 tsp pure vanilla extract
dash of salt
Follow the recipe with the following changes:
- Do not knead the dough.  Mix dough with dough hook until just combined and flour evenly moist.  Do not overwork dough or it will get sticky.
- Let the dough rise in a warm (85-90 deg) for 20-30 minutes.  May not double in size and that's OK. I use almond oil in the bowl, but any oil will work.
- Brush melted butter and sprinkle sugar/cinnamon mix.  Leave a 1/2" strip at the far side of the dough that's un-sprinkled to help seal the log when you roll it.
- Roll out dough on a square of parchment paper.  This will help dough from sticking to counter and makes it much easier to roll the log after adding sugar mix.  Because GF dough is fragile, I don't go 1/4" when rolling.  Instead of a 12" x 12" square, I go 10" x 10".
- Roll dough into a log keeping it as tightly rolled as possible.  Use the parchment paper to help roll it and peel the paper back as you go.
- Tuck in the ends of the log and push them in until you have a uniform log.  It should be about 9" long at that point.  Cut into 6 equal length rolls (roughly 1.5").
- Raise in warm oven again.  Bake at 350 deg F for 20 minutes and then tent with foil for another 10 minutes.
- Enjoy!