My Rus-ian bread journey

I've always been interested in Yippee's posts about CLAS and I've done a couple of CLAS bakes with good results. Most of the detail on CLAS is to be found on Rusbrot's blog and in his YouTube videos. What caught my eye recently was his post about Russian Monastery bread. This is presented as a rye/wheat bread made with a custom built starter. The starter is made with coarsely crushed rye malt and raisins, followed by a rye flour build, so I'm guessing it is a composite of a raisin yeast water and sourdough. I didn't have any rye malt, but Rus suggests you can use coarsely crushed rye grain and malt extract instead, so I ordered some malt extract, but it never came. Back to plan A mkII - make my own rye malt! This is the guide I followed, but much simplified as I was only making 200g. A few days later it was ready and I kicked off my Monastery bread build.
I followed Rus's process to make a rye/wheat Mischbrot. All went OK and I ended up with an OK bake. It was a bit solid, (like all my rye bread is!) and had a lot of cracks in the crust - not sure why.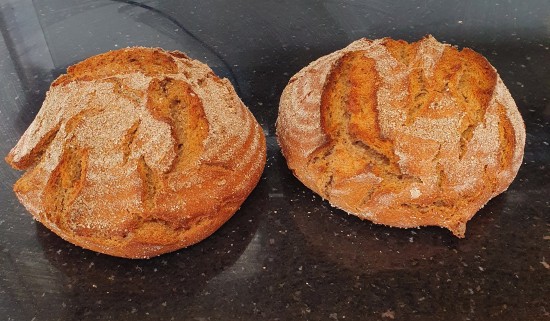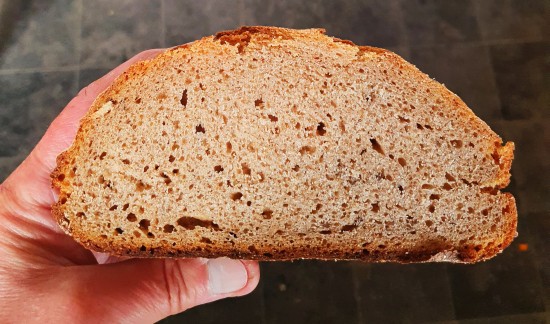 After this, things got more interesting. Rus suggests that you can save some of the dough to make a ripe dough starter - pate fermentee, I guess. So I did this and used it to make a high extraction wheat flour big boule.



Levain build 1

    10g rye malt coarsely crushed
    10g Red Lammas wheat grain coarsely crushed
    10g BF
    10g Red Lammas flour
    12g ripe dough
    40g water
    5 hrs 28C
   
Levain build 2

    10g levain build 1
    100g WW flour sieved
    75g water
    12hrs 25C
   
Main dough

    200g WW flour #40
    200g WW flour #50
    100g Manitoba flour
    350g water
    autolyse 20m
    106g lev build 2
    10g salt
    mix, 2 folds
    3 hrs 45m bulk
    NB: remove 70g dough as a ripe dough starter and store in frij
    shape to  one big boule
    FP 1hr 10m
   
    And what a great bake it turned out to be! Super oven spring, good loft, nice open and moist crumb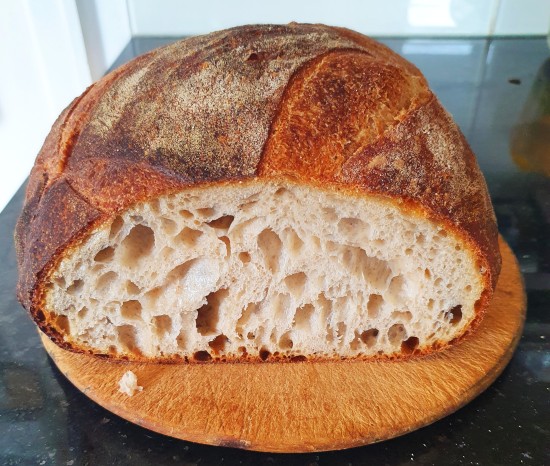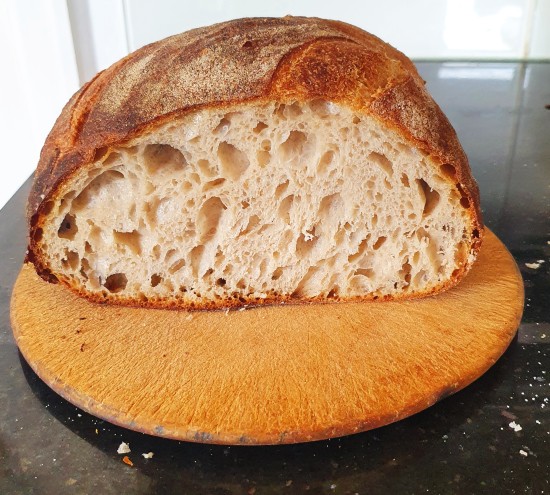 Just to make sure this bake wasn't a fluke, I did a similar bake, but to two small boules and one tubby batard again nice looking loaves: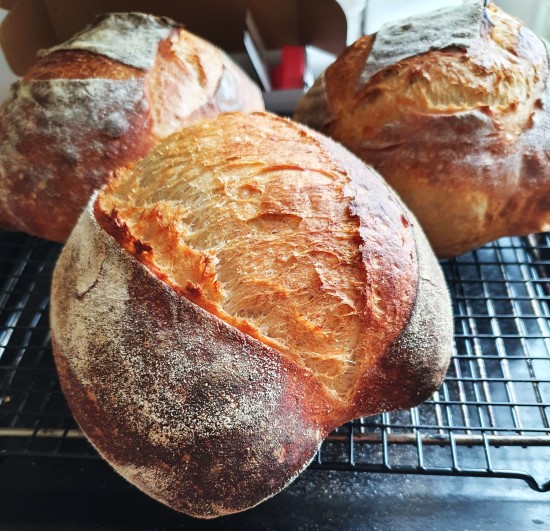 So go on - why not give it a try! If you have a proofing box, you are good to go!
Lance