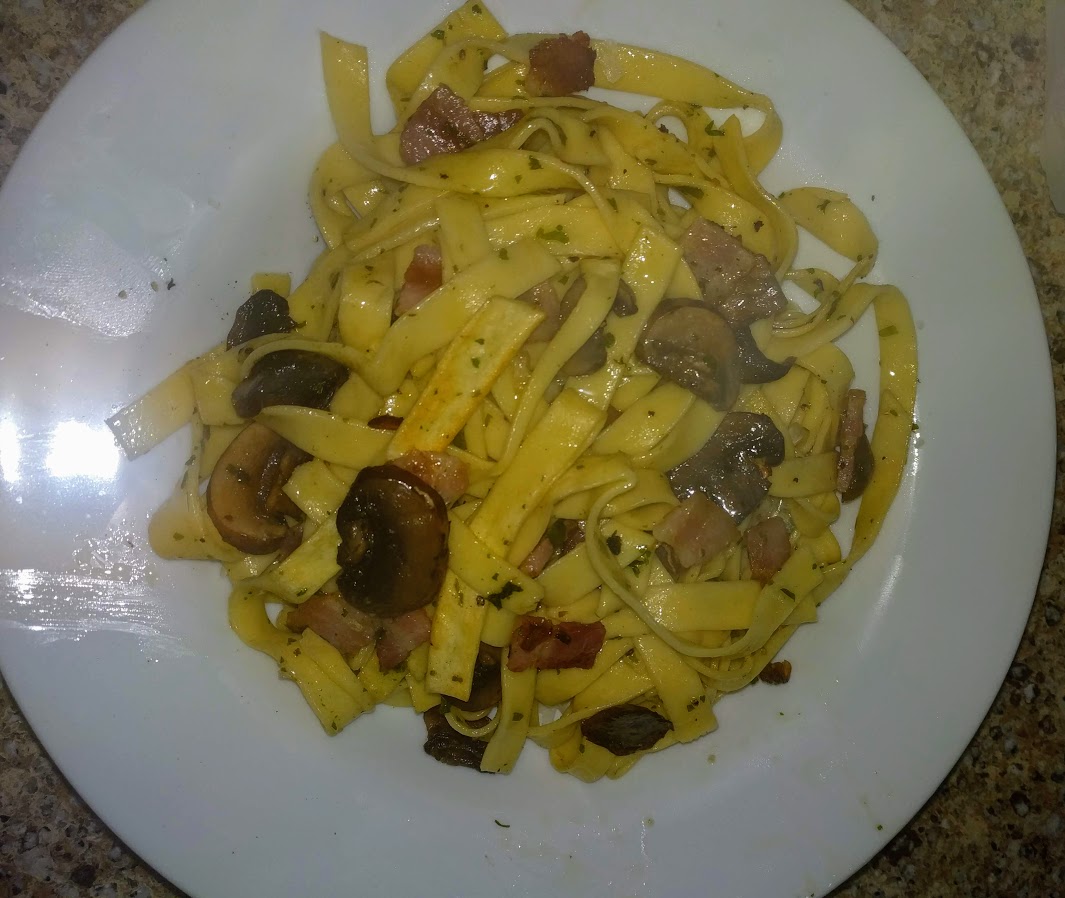 I'm not sure where (or even if) to post this ... so I guess I'll post it here in Off Topic.
I know many of you enjoy fancy, gourmet cooking and I admire and respect that ...... BUT, my own style is to find things that are super easy and quick and still taste wonderful.   I've been making a quick and easy pasta dish that I absolutely love and thought I'd share it with you.  If I need to make something in a hurry, I can go from scratch to serving dish in 20 minutes and it always impresses everyone who has tasted it.
In a nutshell this dish is fresh pasta with garlic, mushrooms, onion, and bacon (I'm sure Pancetta would be even better but I use thick sliced, apple-wood bacon).  Some parsley and basil and black pepper to season, lots of butter and grated Parmesan and/or Pecorino Romano cheese.
I used to make fresh pasta with an extrude type machine - they are great for shapes like macaroni and hollow spaghetti and penne etc.   But for flat noodles I find that I much prefer using my Atlas roller.  And a trick I use when I make my pasta dough, I use a Cuisinart with the blade to mix the semolina flour and egg. I keep it pretty dry, a little less than a cup of flour (somewhere between 3/4 and 7/8 of a cup) to one egg --- depending on how large your egg is and how dry your flour is you adjust with a bit of water or flour.  (I keep a spray bottle handy and one or two light spritz of water if my dough seems too dry).  My dough is much more dry than most videos I've seen.  It will stick together when I pinch it but it isn't rolling into a ball in the Cuisinart.  It should look like separate bits of moist semolina.(like wet sand you'd use to make a sand castle - moist enough to stick together when you pinch it so you can squeeze it into a ball or press it down into an oblong disc shape to go thru the Atlas roller)
I use no oil or salt in my dough - Just semolina flour and egg.  You can make it with AP flour or even whole wheat flour ... but IMO it is well worth getting semolina (or Semola flour which is ground super fine). The texture and the taste is that much better.
INGREDIENTS: (enough for two people or one very hungry person)
3/4 cup (about) semolina or semola flour (or half and half semolina and AP)
One large egg
3-4 mushrooms or as many as you like
4-5 cloves of fresh garlic (or as many as you like)
1/4 cup (or as much as you like) chopped onion
2 slices of thick cut bacon
a few pinches of dried parsley and basil 
fresh pepper
grated Parmesan or Romano
Olive oil and/or butter
HOW TO:
mix 3/4 cup semola flour and one egg into a dry/stiff dough.  If you have time, let it rest (now is the time to run to the store if you need some ingredient) - if you're in a hurry go straight to the roller and roll it out but don't cut it to noodles yet.  Set the wide strips aside to rest. (this whole process takes me about 5-10 minutes)
Start your salted water boiling and start heating your cast iron skillet and lightly cook two strips of thick bacon.  NOT CRISPY, just enough to melt some of the grease off the bacon, it should be limp and fatty still. (you may want the bacon grease in your meal, I don't - so I cook the bacon separately - I use a panini press - and add it to the other ingredients after most of the fat has melted off)
While your bacon is cooking, crush several cloves of garlic and saute in hot olive oil and/or butter.  
While the garlic is browning, chop some onion and toss into the hot oil with the now browned garlic.  Sprinkle some parsley and basil flakes in with the onion.
While the garlic and onion are sizzling in the hot oil, chop your mushrooms and grab the bacon before it gets crisp (it should be limp and still have plenty of fat not melted off yet).  Cut the bacon into pieces and toss the mushrooms and bacon in with the onions and garlic - turn the heat off on the cast iron skillet and add some butter if you want.  You are just letting all the flavors combine in the hot skillet.   (this all goes really quickly and in sequence - from the time I lay out the pasta sheets to rest to the time I've added the mushrooms and bacon and turn off the heat on the skillet is about 5 minutes)
Your pot of salted water should just be boiling now ... so run your pasta thru the noodle cutter.  My method is to cut the rolled pasta into shorter lengths (about 4") before I run them thru the noodle cutter so I end up with 4-5" noodles.   Dump the noodles in the boiling water and stir occasionally.  They only need 2 minutes in the boiling water, don't over boil them.
Strain the noodles and dump them into the skillet with the bacon, mushrooms, garlic, onions etc.  add some butter and stir it up to coat the noodles and get a nice distribution of bacon etc.  (for a variation you can have a hotter skillet and fry the noodles - but I just have it hot enough to blend the butter and garlic etc. into the noodles before I serve it)
Serve it with lots of grated cheese (Pecorino Romano is my choice) and black pepper to taste.  I like a Sauv Blanc or a cold beer with this.  There is enough for two, but you will want to eat it all yourself.  It's much better to eat half now and put the rest in the fridge and heat it up and eat the second half in a few hours.