Developing bread recipe for restaurant (need help)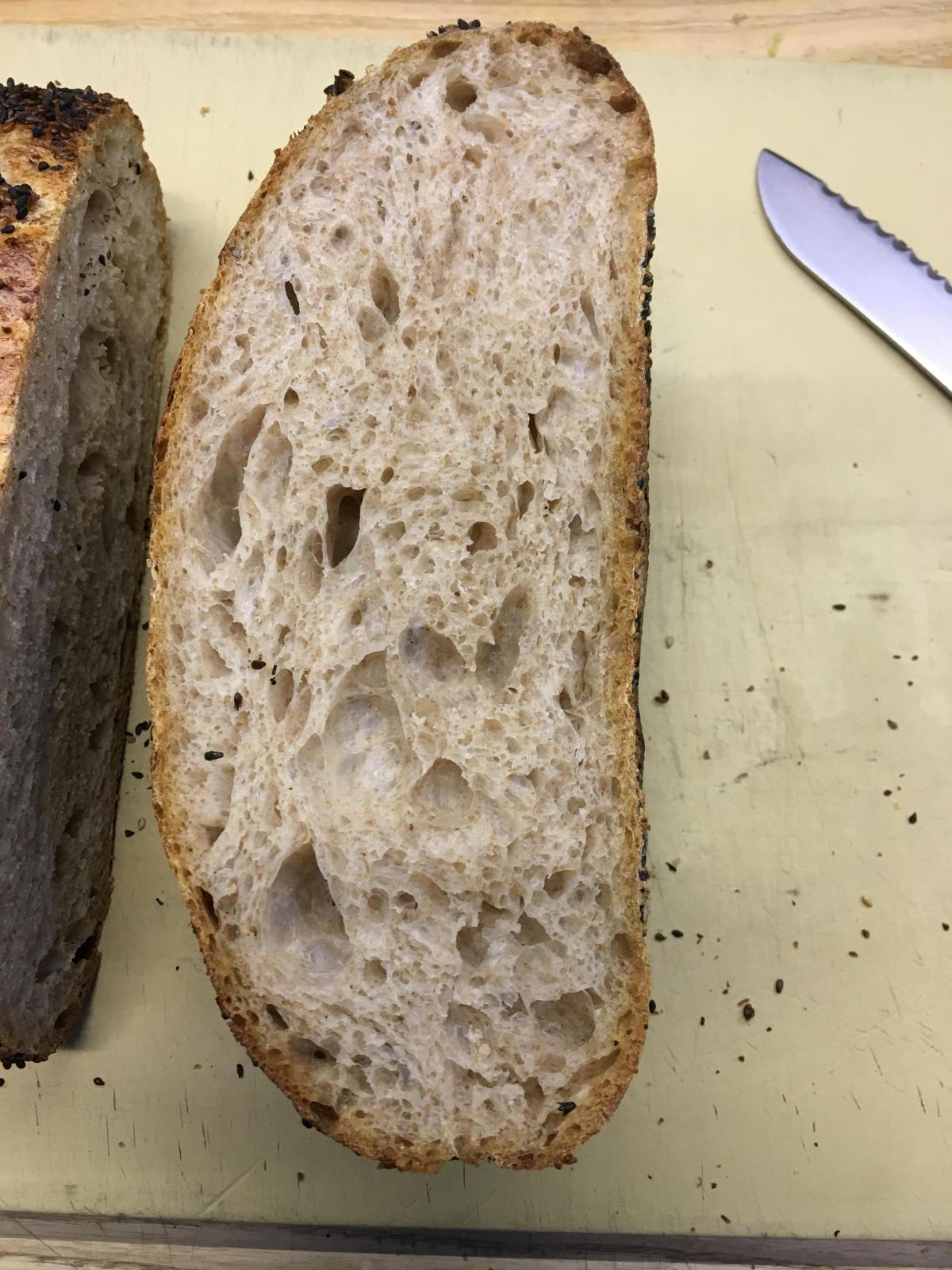 Hey all,
I just helped open a restaurant in NYC and we've been developing a bread recipe since day one. We worked with a talented baker to get the original recipe going but since then its been all on us. Ive personally taken the responsibility of improving our technique and recipe to get the desired loaf. I'll start by saying the bread we've been baking is great. Each day is different as you can imagine (some better/some average). Everyone loves it but as I dig deeper and deeper into my own knowledge of bread baking I know it can be way better. 
General information: Our oven is a deck oven that we run at 518F/518F ( top heat/bottom heat). We do a three day process (each batch makes three loaves). Day one: make the poolish (250g King Arthur's Sir Galahad flour/250g Organic Whole Wheat/7.5g yeast) and once it begins to rise we leave it in the fridge overnight. Day two: mix the poolish in with our flour/water/salt (632g King Arthurs/158g Organic Spelt/672g poolish/514g water/22g salt). I mix in the water(500g)/poolish/flour and mix. Autolyse for 30 minutes. Add in 14g of water/salt and finish mixing. I shoot for a final mixing temperature of 71 degrees. I typically mix for about 12-15 minutes (no higher than setting 3) and that includes brief pauses to let the dough sink back down to the bottom (I find that helps pick it up off the bottom of the bowl later on). I place the dough into a oiled container and leave out on the counter for 45 minutes and then do a fold. Then the mixture goes in the fridge overnight typically with a fold at the end of service that same night. Day three: I do a very light touched pre-shape and rest for 1 hour. Then I shape. I dampen the outside skin of the loaves and then cover with black and white sesame seeds and place in the proofing baskets. Typically proof for 3 1/2 hours and then bake. 15 minutes with immediate steam and then 10 minutes with the vent open. 
Recently Ive been just trying to make small adjustments to get a more open crumb (slightly changing the salt percentage/a lighter touch with shaping/hydration). My first focus is trying to change the hydration which is 75%. Two days ago I baked one of the best breads we've ever had (normal recipe). Today I baked a bread with 79% hydration that didn't have the crumb that yesterdays bread did but had a beautiful texture and very light but with a perfect chew. Tomorrows bread I increased the hydration to 84%. I suppose we'll see what happens. I figured I could dabble with different hydration levels and find one that works and then move to another change like shaping/salt/etc.
Photo above is of the 75% hydration (normal recipe) that had our best crumb yet.
I suppose I haven't really asked a question yet but Im just asking for advice on getting that perfectly open crumb. There are just so many variants that can go wrong I guess I wanted to see if you all think that the recipe as is could be the problem or maybe just shaping problems.
Well, let me know. Thanks for any tips you may have. Sorry for all the info. I know that was kind of a lot. 
Taylor