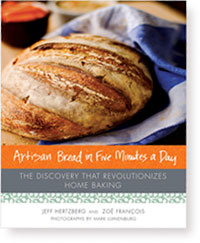 Jeff Hertzberg and Zoë François are the co-authors of the new book Artisan Bread in Five Minutes a Day. They've been kind enough to take a few hours out of their busy schedules and answer a few questions I had about the book. and to respond to community member questions about the recipes or techniques found in the new book.
Floyd: I was surprised by the breadth and depth of the recipes in this book. I guess I expected something like the Sullivan Street no-knead technique applied to a couple of dozen other recipes and quickly rushed out the door by the publisher, since that is largely how I've seen other folks try to capitalize on this trend online. But I gather from your introduction that you two were working on this technique well before no-knead phenomenon took off, no?
Zoë: The New York Times article Bittman wrote about Lahey's bread came out when we were nearly done with our manuscript. We were very nervous he had beaten us to this concept, wet no-knead dough that had a long rest. We realized quickly that our method took the concept much further, that we had something more to offer than just the wet dough. We weren't sure if Lahey was working on a book and if there was room in the bread book market for two, with a fairly similar message. After a while we came to understand what a gift Bittman and Lahey had given us. They really got people excited about baking again, this on the heels of the Atkins craze.
Floyd: Heh. Yeah, the Bittman article in my mind marks the official end of the Aktins era.
Zoë: I honestly don't think that so many people would have dared try our method had he not primed the way. He legitimized what we were doing for people, we didn't have to convince anyone that it would work. Well almost everyone got it! Having said that, once people try our method they will quickly recognize that it is quite different than Lahey's.
Our dough is wet, but not as wet. We did this on purpose so that first time bakers could handle the dough without being frustrated. We also wanted to offer a variety of bread styles and traditional shapes, such as the pan d'epi, which couldn't be done with a dough any wetter than ours. The bread made with our dough can certainly be baked in a dutch oven or a cloche but it can also be made on a pizza stone and slashed to have a really beautiful and finished appearance.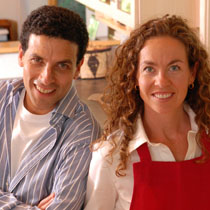 Photo: Mark Luinenburg
Jeff: Yes, our innovation was being developed long before the current no-knead craze began. What differentiates our particular no-knead approach is that we tested all our recipes with dough intended for storage, for as long as 14 days. No other book has ever looked at that, and this part of our book was being worked out by 1990, long before either of us knew that there might be a book in it! We didn't start trying to turn all this into a book until 2003, but that was still long before Bittman's Times article appeared.
As Zoë says, we have little in common with the Lahey/Bittman approach except that our dough is wet and isn't kneaded; neither were new concepts. What's new is trying to store dough, and adapting that approach to the broad universe of baked goods from the many traditions that make up the Western baking menu. No other book or method that we know of has ever explored the possibility of long-term dough storage, and that's what opens up enormous possibilities for busy home bakers. So we're glad to have surprised you with some variety!
Zoë: We also have several sweet breads that are based on the brioche dough, such as sticky pecan caramel rolls and braided pastries which couldn't be done with the other method.
Floyd: Yes, I made your chocolate brioche (recipe) last weekend and it was excellent, much better than any other brioche I've made!
Zoë: Floyd this is music to my ears! I can live out the rest of my days and know that I contributed something worthwhile to this world.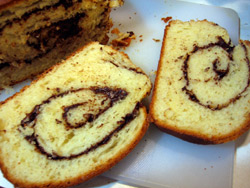 I love brioche. I used to make it for the restaurants I worked in when I first left culinary school. My first boss came up with some crazy sandwich that involved individual brioche buns. It was a nightmare. They had to be watched and babied or the whole batch would explode or implode, depending on what else was going on in the kitchen and how warm it was that day. Our proof box was a rolling rack with a plastic bag over it. Not exactly a precise environment. It was literally the most finicky recipe we worked with. When I discovered that this concept of no-kneading and storing the dough would work for Brioche I was personally amazed and thrilled. It was my personal triumph with this project! I'd only wished that it had occurred to me a decade earlier!
With the brioche recipe came the other sweet breads and dessert pastries. I'm a pastry chef by training so once I was let loose I just couldn't help but add lemon curd, almond cream and chocolate to various recipes. It was just plain old FUN!
Jeff: Zoë is a pastry genius and I am a lucky, lucky amateur hack to have gotten a chance to write a book with her. She's taught me everything I know about fine baking!
Floyd: On my first try, I came up with a hydration of about 65% on the master recipe (recipe). Does that sound about right? It was less wet than what I expected, but my flour may have been compacted a bit too tight. I think if I make it again I'd be tempted to make it a little bit wetter.
Zoë: We struggled with using cup measures vs. weights, but in the end we decided on cups because most home bakers still measure that way. Unfortunately it means that some people are going to have the same experience that you did and end up with a dry batch or two. We purposely avoid talking about hydration levels and other lingo that might be intimidating for people who have never baked bread. Since your readers are clearly accomplished bakers and are most likely weighing their ingredients we will give you the break down. Our scoop and sweep method of measuring gives us a (5 oz) cup of unbleached all-purpose flour. The total weight of the master recipe is 2 pounds of flour. Using 3 cups of water we figure the hydration is about 75-78%.
If you use a brand of flour that has a higher protein level, such as King Arthur, we suggest that the hydration be closer to 81-83%.
Jeff: 65% hydration just isn't wet enough for long-term storage. We found that below some hydration threshold, the gradually diminishing gas content in the bread just didn't support a nice rise after the first few days. It seems that slack dough offers less resistance to bubble expansion (at least, that is how we explain what our experiments showed). The threshold seems to be around 75-78%; any drier than that and the batch doesn't store very well.
Floyd: I made my first batch of the master recipe on my baking day last weekend. And, I must admit, I was a bit let down. It wasn't bad, but it wasn't as good as what I would have baked otherwise on my baking day.
The following day we took a trip up the mountain to play in the snow. When we got back, cold and tired, I quickly shaped and let rise the second half of the dough and baked it to accompany a pot of soup we reheated. The second batch came out much better, I think partially because I let it rise longer (more like 90 minutes instead of a minimum 40), partially because it had more time to ferment, and partially because nothing hits the spot like a home cooked meal after a busy day like that.
Jeff: 40 minutes is the minimum time to allow the dough to rise. If the ambient temperature of your house is cool, say below 65 degrees then it is a good idea to allow the bread to rise longer. If you have the patience, the longer and slower the rise the better. But we wanted people to be able to get a fresh loaf of bread to the table after working all day, so we found that 40 minutes for a 1 pound loaf was quite doable and produced a great loaf of bread.
Floyd: Gotcha. Well, what clicked for me while eating the second batch was that, fine, an experienced baker like myself can put in time and effort and make a better loaf of bread: making real artisan bread is an art. But a less experienced or busy baker can spend next to no time using your technique and still turn out a remarkably good loaf of bread, even on a work night or after a day in the snow.
Zoë: I had the same thought when we first started to test the recipes. I figured it didn't really count that I could make them because I'd gone to school to study this stuff. It also didn't count that Jeff was able to produce gorgeous bread because he had been doing it for 20+ years. We needed to give it to rank beginners, those who not only didn't bake but were afraid of it. My mom was my first tester. I figured if she could do it we were really on to something. A week went by after I sent her the recipe and she still wouldn't try it and then she finally did. She was hysterically laughing and said "you would never believe the beautiful loaf of bread I just pulled out of my oven!" then I knew it would work. She has been baking almost daily for 1 1/2 years now!
Jeff: Floyd's experience (better bread once the batch starts to age) jibes with that of our readers, especially the ones with lots of experience in the traditional method. Unless our batches age a few days to mature and develop fermentation by-products, experienced bakers familiar with sponge and levain methods may miss the complex flavors they love. On the other hand, we've been very successful with experienced bakers when we can convince them to hold onto the batch, and maybe even avoid baking at all on the same day as the batch was mixed. All this feedback comes from the blogosphere; I don't know how anyone used to get feedback from readers before the Web changed everything. Did people actually write letters? With a quill pen?
Floyd: Amazing, isn't it? I know many of us here on that site still marvel at how quickly we can help each other, even getting tips between the time a loaf is shaped and when it is put in the oven.
Speaking of the site, a couple of the misconceptions I strive to overcome on the site and that I think you two do a good job refuting are that: 1) bread baking is by definition difficult, and that 2) you have to follow recipes precisely to bake a good loaf. I am constantly amazed at how resilient most dough are and how much flexibility the baker has. Yes, from beginning to end it is a long process, but there are any number of points along the way where you can pause the process so that it fits your schedule. If anything, most breads improve from being refrigerated or folded so that it has to rise again. And rarely does letting loaf rise 90 minutes instead of 75 cause major problems, so you should relax and enjoy yourself while baking. Modify the recipe to fit your schedule rather modifying your schedule to fit the recipe.
Zoë: Floyd, your approach is a breath of fresh air for serious bakers, because even serious bakers struggle with the time constraints of modern life: jobs, friends, families, and running households. Your site rejects the idea that it all has to be absolutely perfect and restaurant-ready.
Floyd: Ha! You can say that again. Some of the breads I've posted, even in my lessons, are ridiculously ugly.
Zoë: Right, but that's not what home cooking is about. Home cooking is a practical art that should bring joy into everyday life, not be reserved for special occasions. That's all we were trying to do with this book.
Floyd: Indeed. And your technique is like the 80-20 rule applied to baking: you can get 80% of the way to making great bread with this approach using 20% or less of the effort of the traditional methods.
Jeff: We are hoping that this method will get people who have been intimidated by bread baking back in the kitchen. Once they are comfortable baking this bread they might have the confidence to try some of the more traditional techniques and put in that extra 80% effort. That would be very exciting! For others it is just an issue of time and this method produces a really great bread with very little time commitment.
Floyd: I baked your rye (recipe) Friday and Saturday and enjoyed it very much, Jeff. I used Bob's rye flour. It came out nice and light and made great sandwiches the next day.
Jeff: I sweated over that rye bread. This was the bread that got me obsessed with yeast baking in the first place, and I wanted it to be great. The struggle was, how much rye? Because I knew that most of our audience would not seek out true medium rye (lower in bran), I kept the fraction of rye relatively low.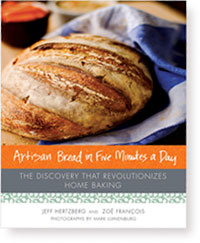 Most of us in the U.S. will have easy access to Bob's Red Mill rye products, and Hodgson Mill Rye (Pillsbury seems to have stopped distributing their's nationally). Bob's and Hodgson are tasty products, but very high in bran, which absorbs lots of water and yields a result that's less "custardy" than classic sour ryes. In order to get "custard" with the high-bran products, I had to push the hydration to the point where novice testers were having trouble shaping it and sliding it off the peel. Since I knew the high-bran products are what our readers would generally use, I kept the rye fraction relatively low, and the reception has been great.
The best ryes are made with true "medium" rye, and the only place to get it has been King Arthur Flour by mail order. If you have medium rye, by all means, experiment with pushing the rye fraction. At some point, you'll find that the rise isn't great (only wheat flour contains enough gluten to support great rise), and you may want to add a little vital wheat gluten (VWG).
But you can see why I didn't want to start with this for novice bakers. Monkeying with VWG takes some experience.
Floyd: Indeed.
Artisan Bread in Five Minutes a Day is available now from St. Martin's Press/Thomas Dunne Books. The website for the book is artisanbreadin5.com.
Update: This thread is now closed. Thank you Jeff and Zoë for taking the time to answer out questions!
Q & A with Jeff Hertzberg and Zoë François