September 18, 2017 - 7:51am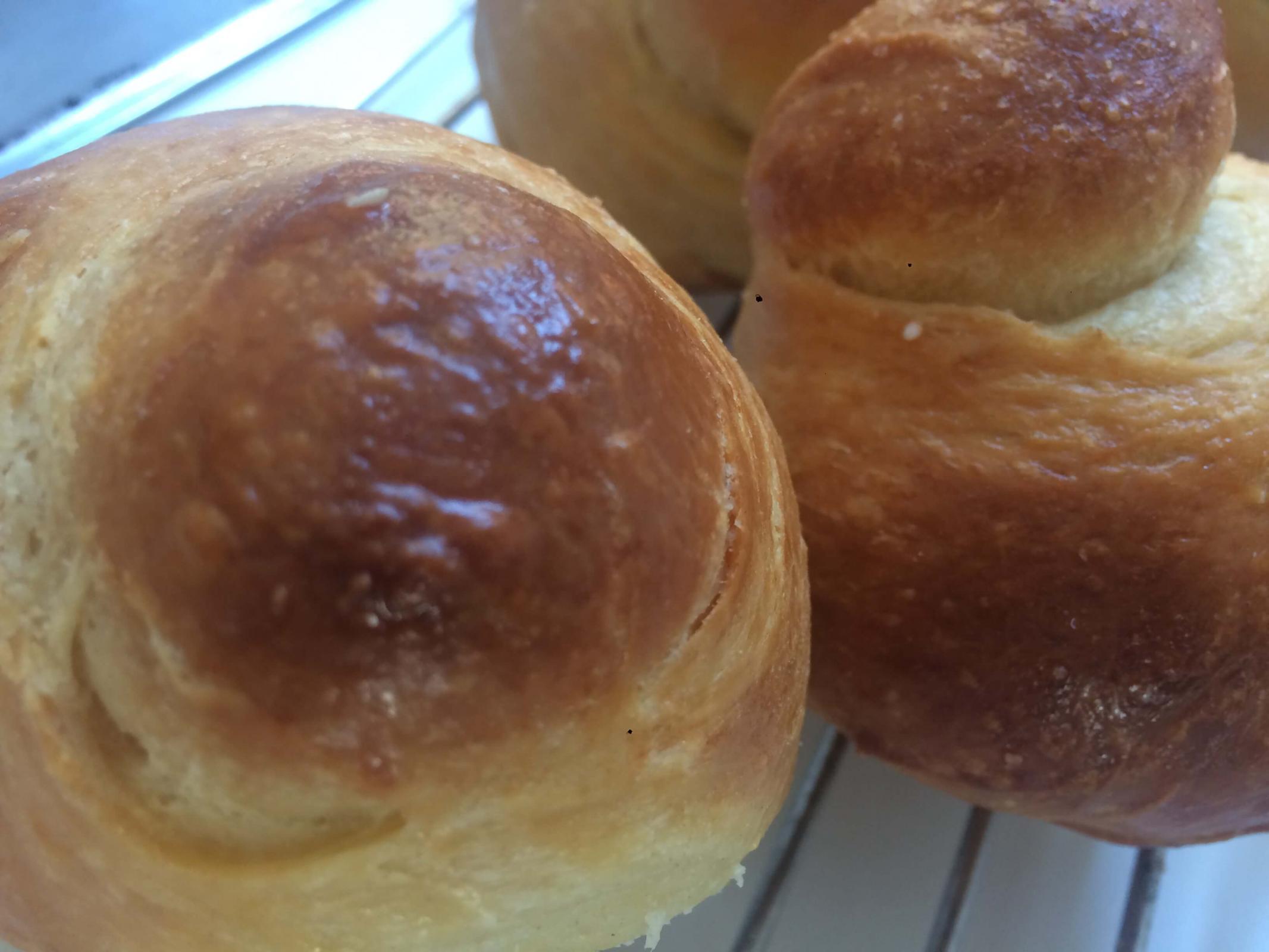 Hello. This is my first try with an enriched dough. And it turns out very well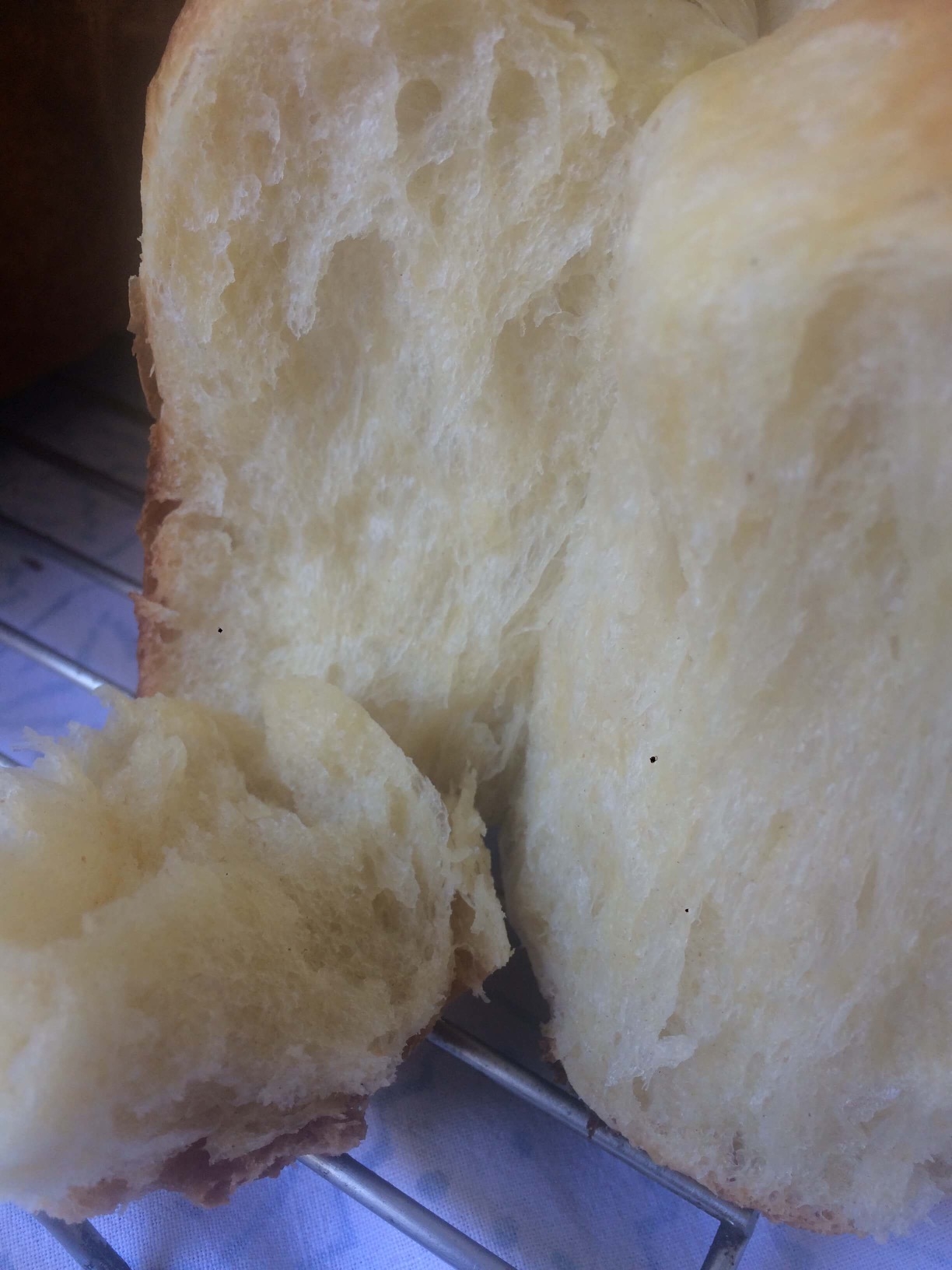 I got this recipe from this post (it's Bertinet's recipe) and adapted it to use my starter. There is also this youtube video of him making the brioche that was very helpful.
https://www.youtube.com/watch?v=GSLwLm1JA2o
My adaptation:
Bread Flour*      - 1000g  (100%) (75g in levain + 925)
Sugar                - 100g    (10%)
Salt                    - 20g      (2%)
Eggs                  - 700g    (70%) (around 12 eggs)
Butter                - 500g    (50%) 
Water                 - 75g      (7,5%) (all the water in lavain)
Levain á 100%  - 150g    (15%) (flour and water already accounted above)
(I end up adding more 30g of flour. The dough was very wet and as I added 75g of water to the formula I thought it makes sense. But not sure if was necessary.)

To make it clear. I used 150g of my 100% levain. No more water added.

*Flour used 50% Manitoba, 50% Bagatelle T65.
Method (or what I did:) :
Mixed flour, salt, sugar. Then the levain, Then the eggs. Incorporated the eggs, first with scraper, then with hands. The dough was lumpy and very sticky.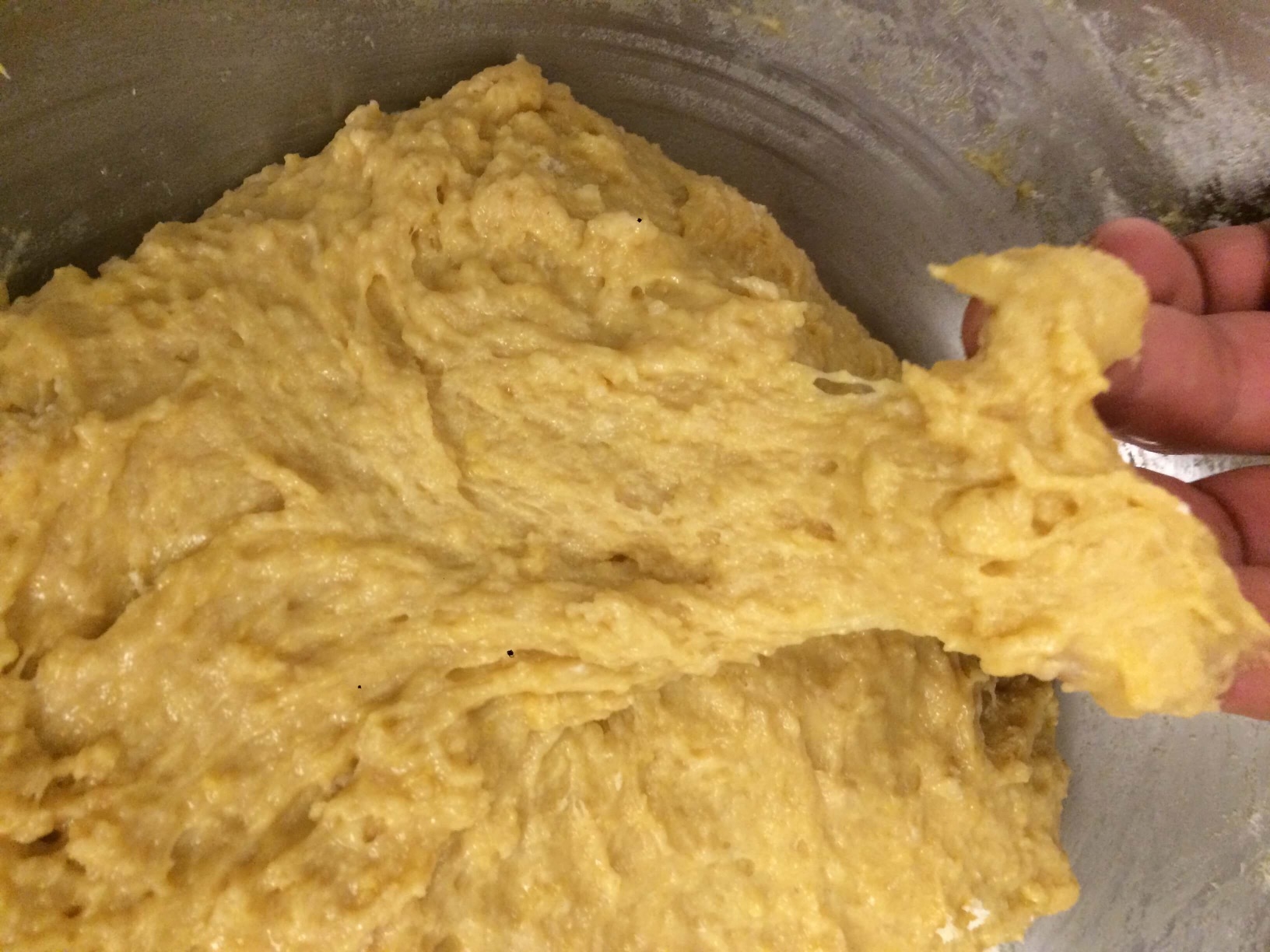 Let it autolyse for 30 minutes.
Then french knead for 40 minutes in more or less 8minutes intervals. The dough got fully developed. Unfortunately I didn't take any pictures at this stage. 
Then I added the butter. In cubes and cold. The dough was at 26º, and I wanted it cooler so the butter won't melt. So I kept the butter in fridge. 
Some work to incorporate the butter. Folding and pressing the dough, then some more french kneading and more folding and pressing. It incorporates. I kept doing more french kneading to improve the dough structure. At this point the dough was very slack. But soft, smooth, silky and very beautiful.
A S&F in the bench with dusting flour, formed a ball and to the fridge, covered.
It was in the fridge for 21 hours. I had some appointments to attend. So I let it there.
After those 21 hours the dough had shown no rising at all. So I took it out. Did one more S&F in the bench and let it rise at room temperature (+- 24ºC) for 13 hours.
Next day it has almost tripled. Was nice and fluffy. I made another S&F, and put it back in the fridge for one hour. To cool the dough making the shaping easier and to keep the butter cold.
After one hour, I divided the dough in 75g lumps. Shaping was easier than I thought. Just did it like in the video. It worked well. The Brioches a Tete, the ones with a little ball in the top. I used a little different method that I have seeing somewhere. You make the "split" just like in Bertinet's video, and than poke a hole in the bigger ball and stick the little one trough it.
So I made 2 pans with 12 balls each and 7 more that I baked in some little pans I had. To little. But it worked anyway.
 I brushed some eggwash and let it rise again until almost double (2hrs).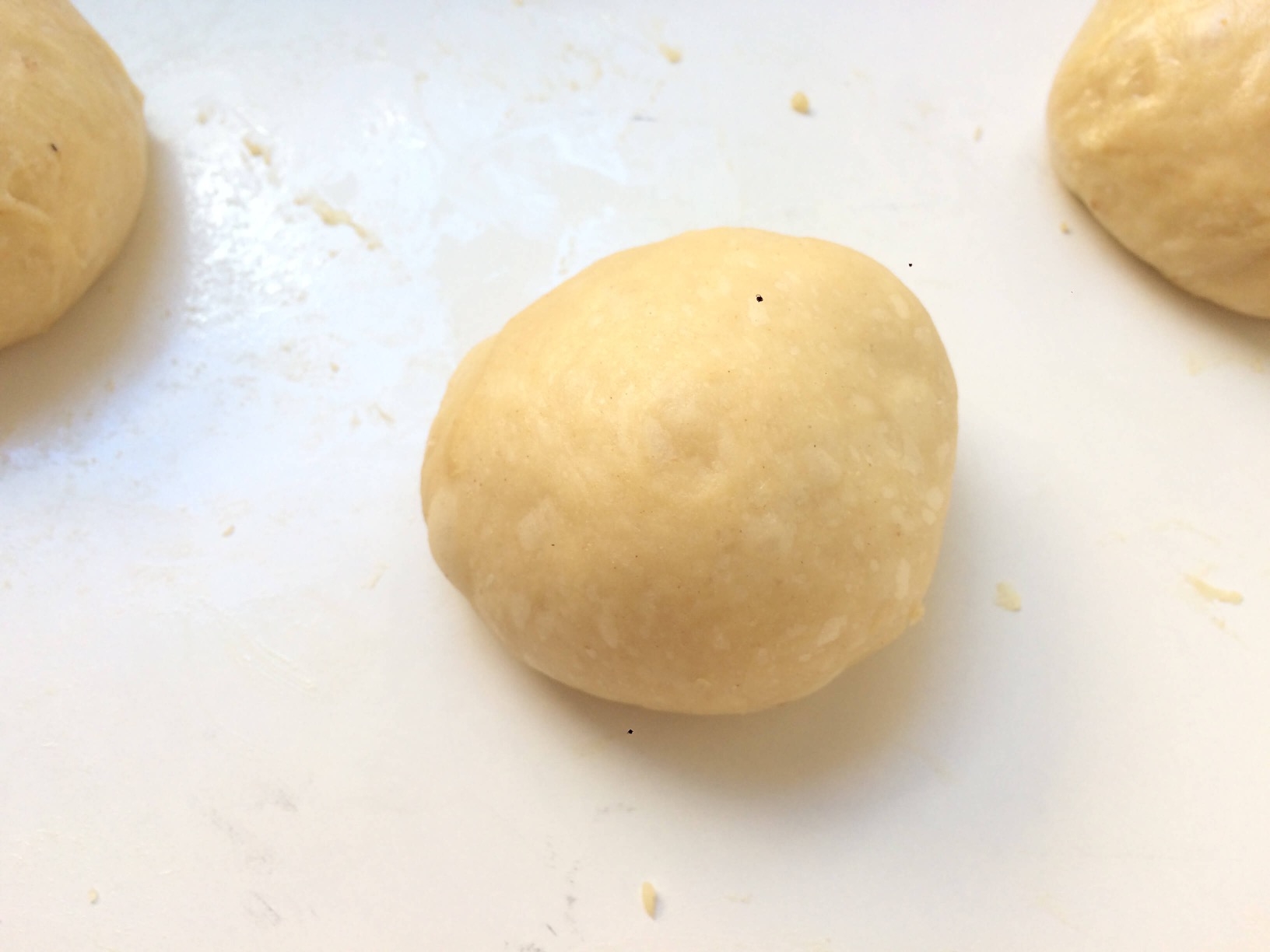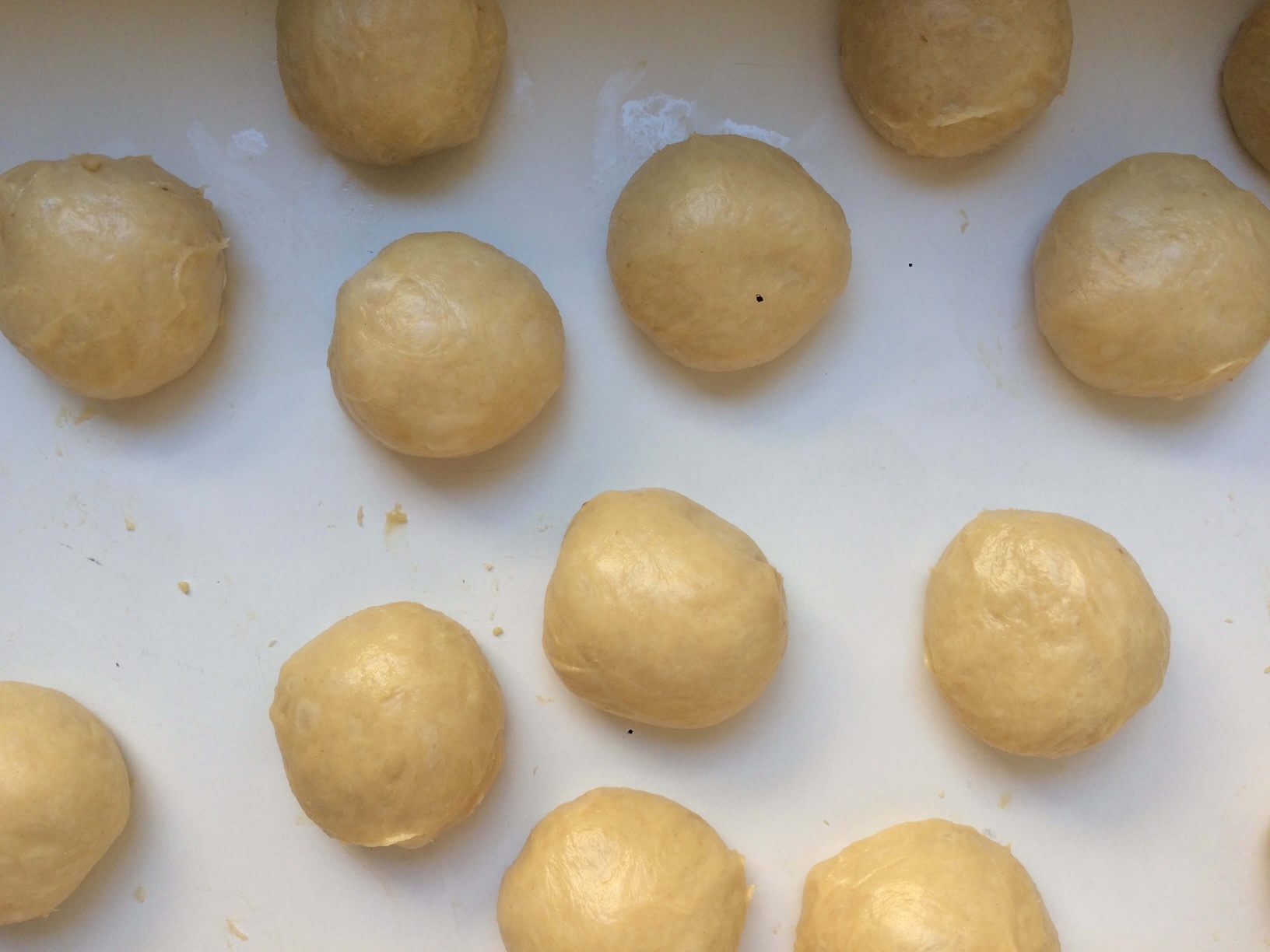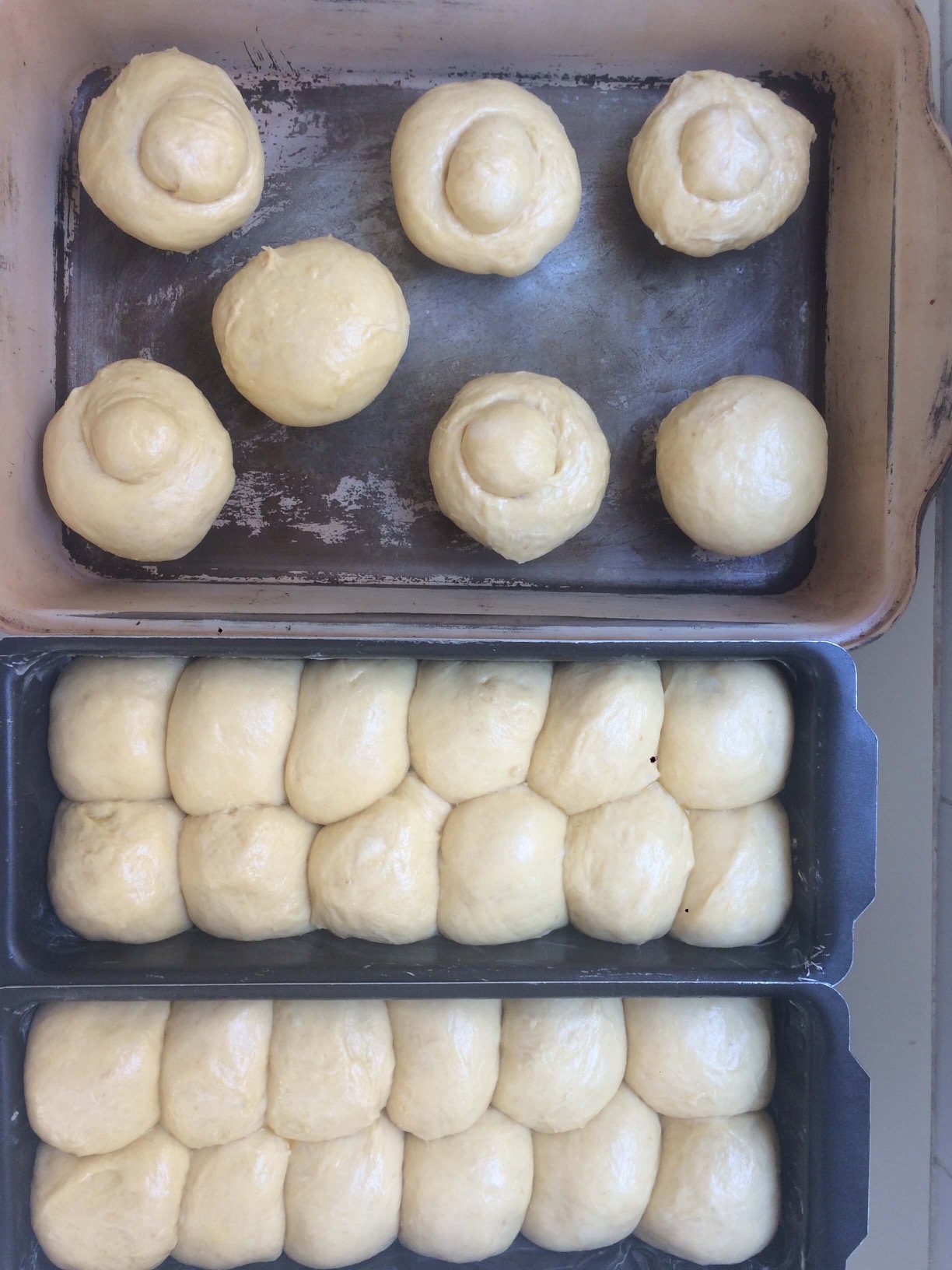 Brushed once more and baked it. Oven pre heated at 180º. No steam. The big pans baked for 40 minutes, the smaller ones for 30 minutes. Both with a turn to bake evenly.
When I took them out I brushed the top with melted butter. And let it cool in the rack.
The result was amazing. Fluffy, soft, tasting very good. The sour flavour added by the sourdough goes very well with the sweetness of this bread. Family loves it