January 28, 2017 - 3:51pm
[2017-12] Olive Loaf with Salt Crust
I've made this loaf many times before, and it's one of my favorites. It's also a bit of a crowd favorite, at least among those who like olives.
I make this a bit differently than most of my other loaves, which is necessitated by the need to have access to the top of the loaf a few minutes before baking. Rather than proof in a banneton, I proof instead in parchment inside a mixing bowl, apply the black salt no more than 5 minutes before baking (or the salt will dissolve into the crust) and then left the entire loaf, parchment and all, into the screaming hot dutch oven. The dutch oven that I use is a round 3.5qt, which makes for a tight fit for a loaf this size. That in turn makes a nicely-risen loaf (or at least, appears nicely risen) with crinkly sides from the parchment.
This specific loaf is perhaps my best attempt so far. Previous versions had a very thin crust, despite cooking in the dutch oven, and I really couldn't quite wrap my head around why. For this loaf, rather than proof with a sealed lid on top of the mixing bowl, I proofed with just a linen over the bowl (overnight for ~8 hours) which left the top of the loaf quite a bit drier than when I proof sealed. That, in turn, made the top easier to score, and gave me nice crisp ears. Still not quite as crisp as my other loaves proofed in bannetons, but still better. My takeaway from this is that dough loses more moisture than I thought to the banneton, and a glass bowl with a lid on it really keeps that moisture from escaping.
Recipe is as follows:
500g KA Bread Flour
350g cold water
150g starter @ 70% hydration
12g salt
150g kalamata olives (sliced in half)
Hawaiian black lava salt (to taste)
Turned dough at 30 minute intervals for ~4 hours, incorporating a few of the olives at a time.
Proofed overnight in parchment, covered with a linen cloth
Sprinkled generous amount of Hawaiian salt on crust at the very last minute before baking
Baked @ 450° for 25 minutes covered, 15 minutes uncovered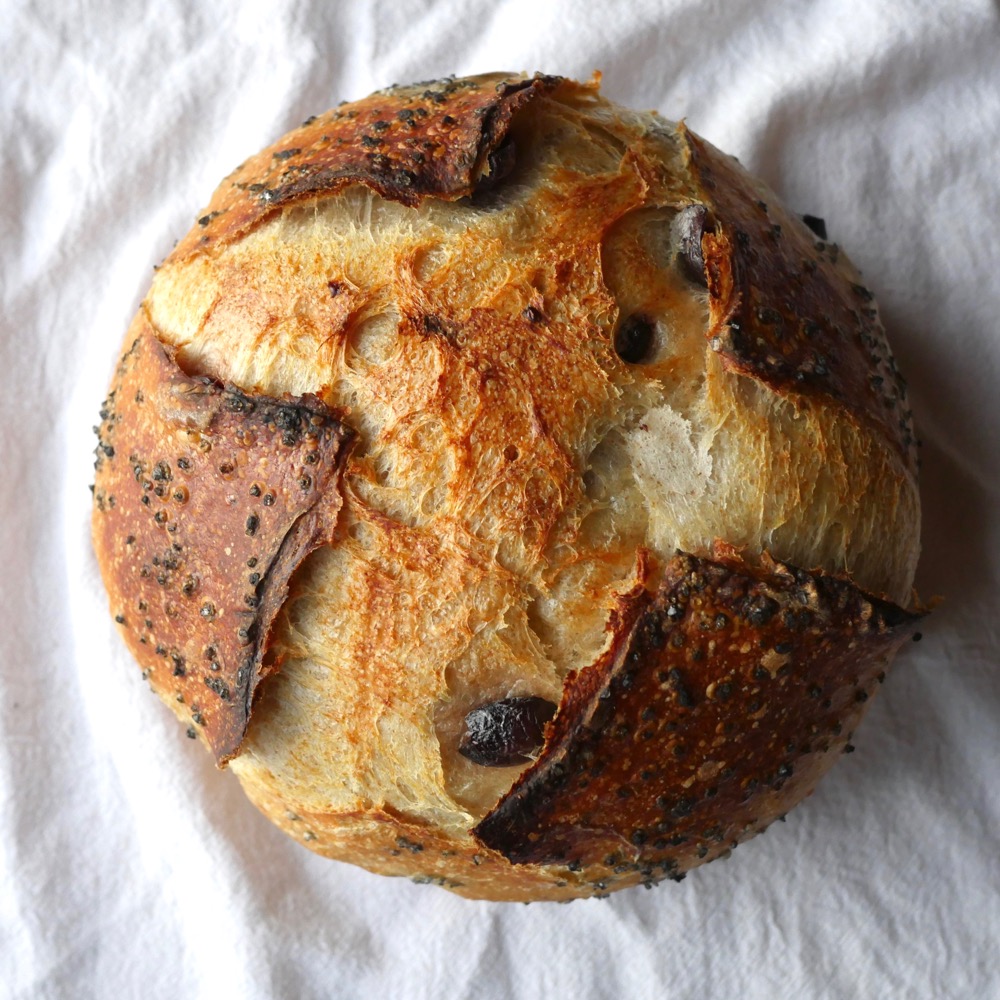 Sorry, no crump shot on this one -- I took it to work and fed it to my team at our Monday staff meeting, and it was rapidly devoured.