December 5, 2007 - 1:40pm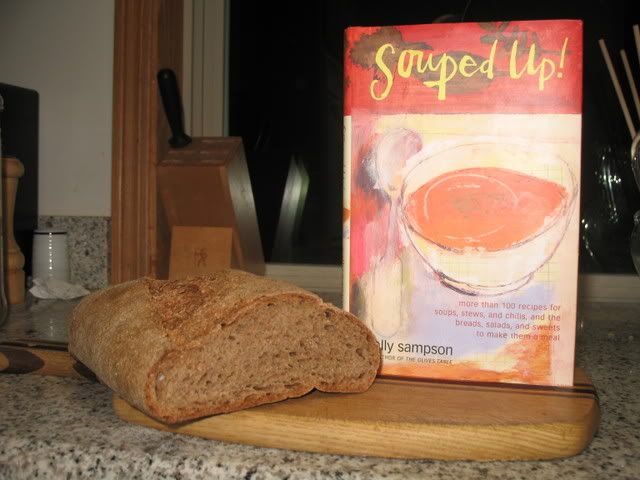 Ok, the photo is a bit misleading. If you want to make the bread, you won't find the recipe in this book -- you'll need to go here. But what goes better with a fresh loaf of bread, especially this time of year, than a good bowl of soup? Souped Up!
, by Molly Sampson, is, hands-down, the best soup cookbook I've read. In fact, as cookbooks go, I'd hold up Souped Up! as a model for the genre. Really -- it's a masterpiece.

Right now in Oregon, it's wet and chilly and, back in my adopted home of New England, it's cold and snowy. This time of year, nothing sounds better for dinner than soup, salad and a fresh loaf of bread. Heck, I roast a chicken a couple of times a month and, to be honest, more than 50 percent of my motivation is the fresh chicken stock I can make from the carcass.

I had a few favorites that I'd make quite a bit from The Joy of Cooking and The Moosewood Cookbook, but checking out Souped Up! from the library expanded my repertoire of good soups by an order of magnitude. (Strange coincidence -- I moved to Corvallis from Watertown, MA and this book was the first one I checked out with my brand spanking new library card. Where does Molly Sampson live? Watertown, MA.)

What's so great about Souped Up!? Let me count the ways ....
It uses common ingredients: I really hate it when I get excited about cooking something for dinner only to discover that it requires some exotic ingredient like chipotles in adobo sauce or truffle oil or smoked paprika or pomegranate vinegar. I'm sure there are places in the Southwest where chipotles in adobo sauce are as common a pantry staple as pimento cheese was in my Southern home, but there definitely aren't any chipotles in adobo sauce at my grocery store and I'm not going to order a can over the Internet for a single dish. Souped Up! uses easy-to-find ingredients that are probably already in your fridge or pantry. They don't get much more exotic than an occasional head of fennel, a bunch of fresh cilantro or some smoked turkey.

It's not a coffee table book: The Bread Baker's Apprentice really is the glaring exception to this rule, but I generally find that, the more pretty pictures a cookbook has, the less useful the cookbook is for actual cooking. Souped Up! is laid out simply, but attractively, with ingredients, dish names and cup yield in red, and everything else in black. There are no pictures of soup, which, I suppose, isn't surprising. Soup usually isn't all that photogenic.

The more than 100 soups are delicious: Really. They are. Especially the bean soups. Though there are some soups, the cream soups, for instance, that can be made in under an hour, for most of her soups, Sampson recommends letting them simmer for hours. It really does make a difference.

The book is written simply and well: Sampson doesn't wax eloquently about Italian varieties of beans or the particular pleasures of a certain herb. She's all business. Each recipe has a brief introduction or anecdote, but the meat of the book is the recipes, which are clear and concise.
The book also contains salad suggestions, which is more of a toolkit than a collection of recipes, salad dressings, a handful of quick breads and seven desserts. I've not tried any of the quickbreads, though I did attempt to make her brownies, and was disappointed. But, really, this is a book about soup. The rest are just extras.
Here's a couple of recipes that I've particularly enjoyed. A word of advice, she mostly assumes you'll be using stock that's already salted, so, if you're like me and you make your own stock without salt, you'll need to "salt to taste."
Chicken with Rosemary
1 Tbs unsalted butter or olive oil
1 Spanish onion, finely chopped
2 celery stalks, sliced or diced
2 carrots, peeled and sliced or diced
1 tsp dried marjoram or 1 TBS chopped fresh
1 tsp dried rosemary or 1 TBS chopped fresh
1/4 tsp dried thyme or 1 tsp chopped fresh
10 cups chicken stock
1/2 cup rice or small pasta like alphabets or orzo
1 lb boneless, skinless chicken breasts, diced
(I made this using turkey stock and about 1 pound of leftover roast turkey. It was delicious.)
Place a heavy-bottomed stockpot over medium heat and, when it is hot, add the butter or oil. When the butter has melted, add the onion, celery, carrots, and herbs and cook until tender, about 10-15 minutes.
Add the stock, raise the heat to high, and bring to a boil. Lower the heat to low, and cook, uncovered, for 1 hour.
Add the rice or pasta and cook until tender, about 20 minutes.
Add the chicken, stir, and cook until heated through, about 20 minutes. Serve immediately, or cover and refrigerate up to three days.
Split Pea with Smoked Turkey and Cream
1 TBS unsalted butter
1 Spanish onion, finely chopped
2-3 small potatoes, unpeeled, diced
1 pound (2.25 cups) split peas, rinsed and picked over
1 tsp dried thyme
14 cups low-salt chicken stock
1/4 lb smoked turkey, chopped or thinly sliced (I used deli smoked turkey - worked fine)
3/4 cup heavy cream
1 Tbs chopped fresh thyme leaves
(I didn't bother with the fresh thyme garnish)
Place a stockpot over medium heat and, when it is hot, add the butter. When the butter has melted, add the onion and cook until tender, about 10-15 minutes.
Add the potatoes, split peas, dried thyme and stock, raise the heat to high, and bring to a boil. Add the smoked turkey, lower the heat to low and cook, partially covered, until the peas have completely fallen apart, about 2 to 2.5 hours. Stir occasionally. Skim off any foam that forms.
Add the cream. If you wish to freeze, do so before adding the cream. Serve immediately or transfer to a container, cover and refrigerate for up to three days. Garnish with fresh thyme.
--------
I'd be remiss if I didn't include a link to
my favorite chicken stock recipe.
Not that the one in the book isn't good (and she doesn't insist that one make one's own stock -- quite to the contrary), but I've not found a recipe as simple and tasty as this one. I use a chicken carcass post-roast. Also good is the vegetable stock recipe in
Souped Up!
.
So ... care to share your favorite soup to go with fresh bread?