BakerStone Pizza/Bread oven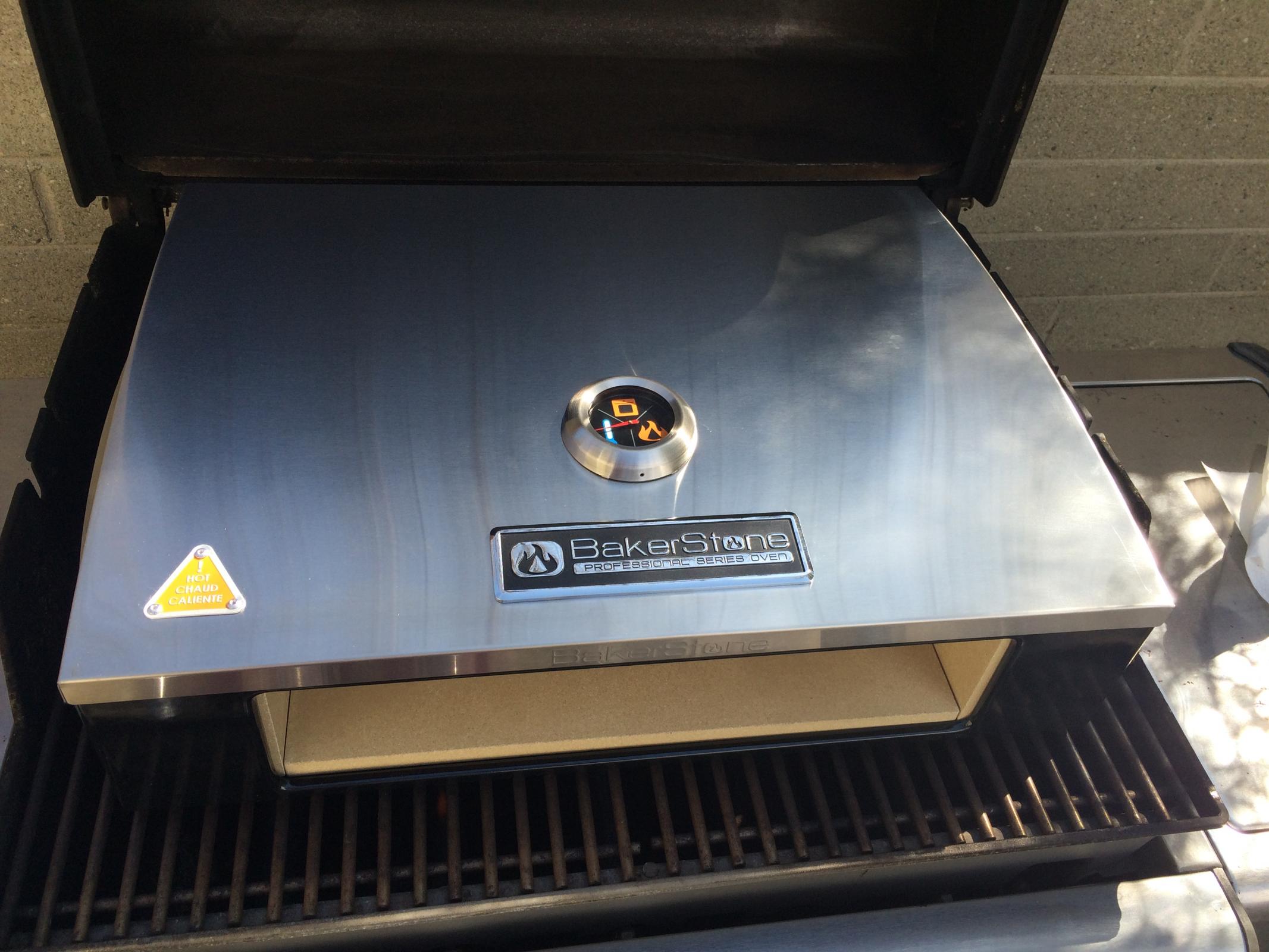 I neither have the space or the budget for a proper wood burning stone oven and have been looking for a good alternative for some time.  The past couple years I've had my eyes set on a grill top stone pizza oven called BakerStone.
Finally giving up the idea of having a wood burning oven, i purchased a BakerStone online from Costco a few months ago.  I want to provide a review on the product and also solicit some feedback or questions from this community.
For those of you who dont know BakerStone, it is a grill top stone oven. The oven size is about 15Wx15Dx3.5H. with stone on every side but the front.  there is a steel casing around the synthetic stone sheets and a temp gauge on top. there is a slot on the bottom that allows the heat to come in from the back bottom to vent out the front. It fits perfectly on my weber genesis. 
The instructions tell you to leave a 1 inch gap around it on the grill.  I tried that and while it worked, it heated up slowly and never got above 550F. (Took over 1 hr). Instead, i removed the "flavor bars" or flame retardant shield above the burners and fitted them around the oven to prevent heat escape.  I'm sure this voids the warranty and posses certain hazards.  But it lets me get the oven to 700F+ in less than 30 mins.
I've baked a number of pizzas and ciabatta breads in it with some very good results (after some trial and error).  It takes 2 or 3 minutes for a thin crust pizza. (using modified Reinhart ciabatta poolish dough recipe). and also made some good ciabattas in about 8 minutes.
I am able to get good rise on the pizza crust, and blisters on the bottom. just have to be careful not to char the dough too much. I feel like there isn't enough top heat even though i found some reviews of this oven stating 700F measure from the top stone.  I dont have an infrared thermometer yet, so i'm not sure on the exact temp in my use.  But i found that lifting the pizza close to the top stone for 10 seconds will do the trick for a pizza.
For my ciabatta, i have to make sure i prep it really flat so after it rises, it still fits in the less than 4 inch height of the oven. First time i did this the ciabatta got wedged in there and i had to chop it up with my peel. (duh!).  I have it nearly perfected now.
So.. overall, for about $150. to have a near wood fire baking experience. I am very happy with BakerStone.  I would like to hear if anyone else has had experience with this product and what else you are doing with it.
I will try to post some more photos, not sure i know how.. this is my first post here.
-Ciabatta Jim