We 3 gmas baked "Bacon Cornbread"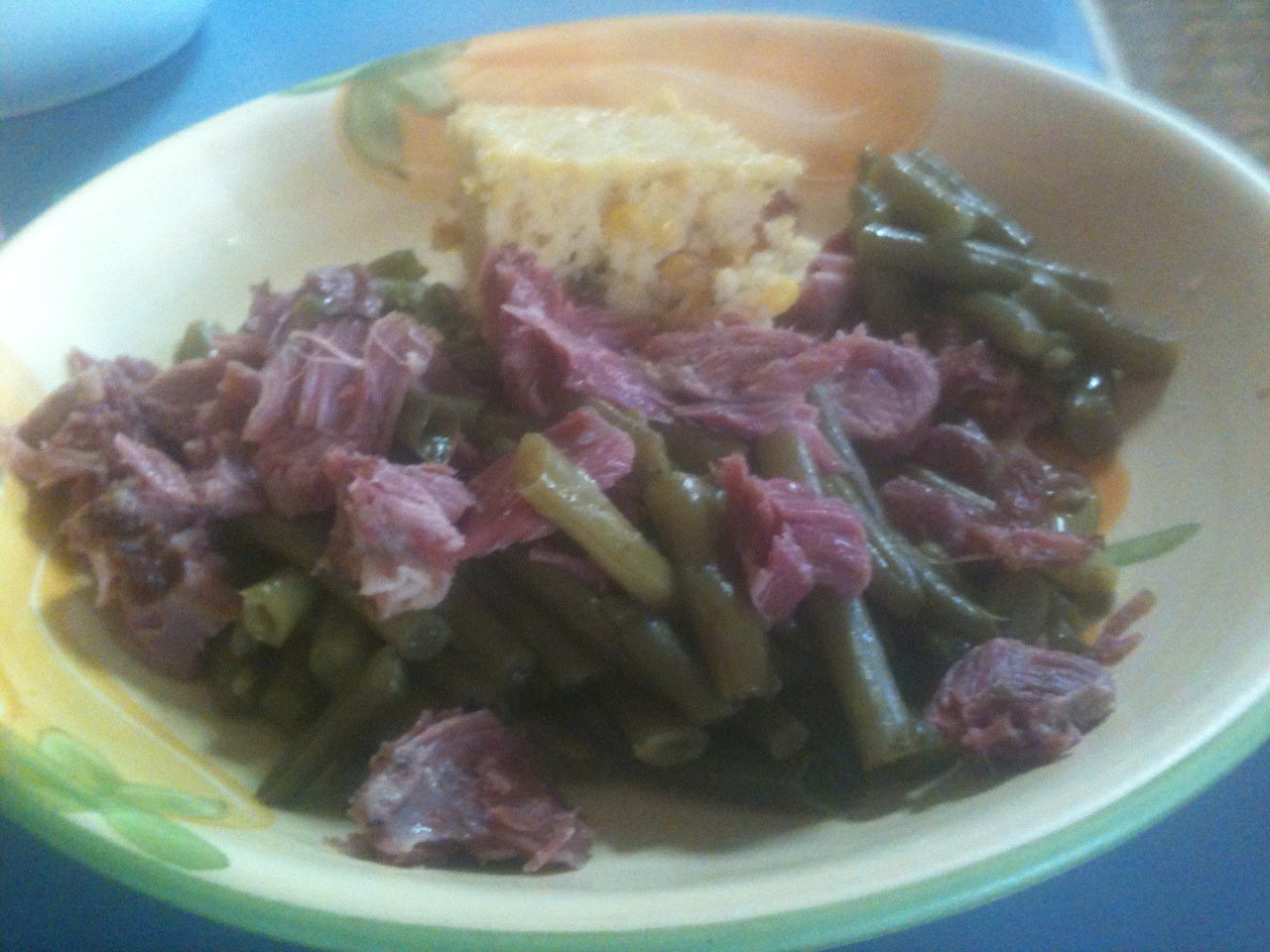 We decided, since trying to give my brand new shoulder some time to settle, we would do a non-kneady recipe this week. Barb found a great recipe for Bacon Cornbread... if you want "sweet" cornbread - this is the recipe for you, as it contains white sugar, brown sugar AND honey... and it is sooo good. Check out the ingredients and the process @ http://leitesculinaria.com/7175/recipes-cornbread.html ... We will probably, most definitely make this again. 
So the lead in picture is Barb's dinner of ham hocks, green beans and the bacon cornbread... the slice of cornbread is small because this plate is for her diabetic hubby... and he is smiling!!! 
Here is her other picture. 
 You can see the bacon in there... and the whole corn kernals. Lovely!
Helen made her corn bread to go with some great pinto beans (the bean recipe is Paula Deen's) with chili powder and oregano.
Baked this beauty in her cast iron skillet, like all good Southern cooks do.
Now, that cornbread looks good enough to eat!! I was amazed with this recipe adding 2 1/2 cups of whole kernal corn... that is a lot of corn and a lot of corn flavor... a piece of this is a meal in itself!
I copied Helen and made the same pinto bean recipe and really love these beans...The picture below is just into the oven, with the bacon all on top.
The next picture is what we had for dinner... I made green tomato relish last summer and it went perfectly with this wonderful Bacon Cornbread and bean dinner.
Again, another week of sharing sister time, with great ideas, great recipes, great food and the best sisters on the planet.
Happy Baking from Barb, Helen and Diane (the 3 gmas)