Miche – the magic of aleurone
Recently I re-read the Flour Treatise.  On the third chapter entitled The Milling of Flour, there is a very interesting section about wheat extraction in relation to endosperm, aleurone and bran.  It says that wheat contains on average 85% of endosperm; however, 100 pounds of wheat yields 72 pounds of flour and 28 pounds of feed material.  The article also says that the reason why it is not possible to extract all of the endosperm as flour, "even with advanced milling methods" is because "the peripheral zones of the endosperm adhere so firmly to the aleurone and bran layers that complete separation is not practical…."
When I read this, my initial thought was: Hmmm, animals eat better than we do because, not just that the aleurone and bran layers contain a lot of nutrients, but also that the aleurone layer is known to have a lot of flavour compounds.
The second thought I had was that no wonder many people say Miche has better flavour than normal bread because a lot of Miches are made of high extraction flours.
I read David's and Glenn's posts about how they like Keith Giusto's Type 85 malted flour.  I rang the company and found that the flour is 90% extraction.  I felt that the flour would be great for my Miche experiment, so I got hold of the flour.
The weather has turned quite cool lately with day time temperature 20 to 22C, dropping to 14 to 15C overnight.  I figured if I mixed a dough around dinner time, I could leave it to ferment overnight on my kitchen counter and bake it first thing in the morning.  But I was not going to leave it to chances so I used a low pre-fermented flour ratio of 11% and I didn't go for a high hydration dough.  Below was a 1.6 kg dough at 76% overall hydration with a flour combination of 75% Type 85/25% white.
My Type 85 Miche Formula 
200 g liquid white starter (has just domed, but not fully matured)                   
675 g Central Milling's organic type 85 malted flour
125 g bread flour
584 g lukewarm water (I mixed my dough to 24C)
18 g salt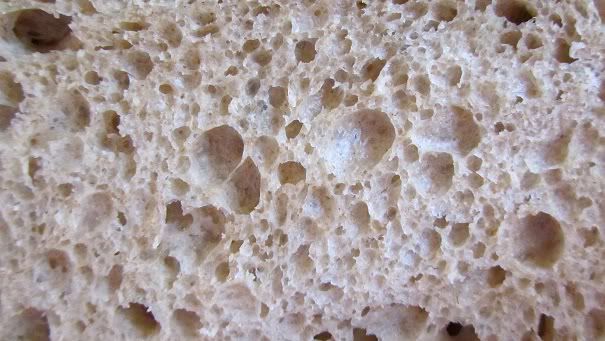 I loved it.  It has been a long while since I felt excited at my own bread.  The crumb was translucent and that tells me the flour was very well fermented.  The crumb smelled sweet to me.
I cut the Miche in half to give it to my neighbor.  My neighbor's boyfriend is making me 4 beautiful baguette bread boards, one for me and the others for each of my three sisters.  We went to a local timber merchant last week to select the wood I like.  I selected a natural dark color, hard timber from an Australian native gum tree.  For my half of the Miche, I sliced it for freezer (because I have another bread coming):
It was a beautiful clear day; my kitchen was full of light, and I was able to catch these beautiful shots (see how the difference of a split second made in the shade of color) :
 I went to visit an organic mill, Kialla Foods, 150 km west from where I live.  I wrote up about it HERE.  I brought back a few small bags of their organic wholemeal flour mix and was dying to try it.  The following sourdough was 800 grams, half the weight of the previous Miche, and had 75% of the wholemeal flour mix and 25% white flour.  It also had an overall hydration of 76%.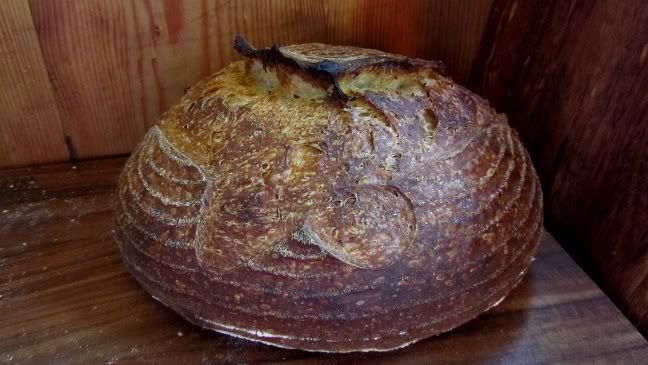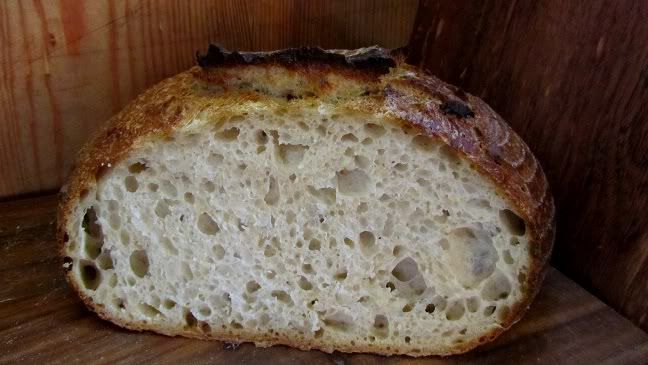 Apart from the flours, all that I added were my sourdough starter, water and salt.  The flavour was quite good actually.
I have to admit that I am very happy with this baking test.  I previously had problems using Kialla's stoneground organic wholemeal flour but this wholemeal flour mix is very easy to work with.  I know why.  Look at the ingredient list: organic white unbleached plain flour, organic wheat bran, gluten, organic sunflower oil, organic sugar, organic soy flour, lecithin powder, malt flour and non-coated ascorbic acid, allergen gluten and soy!!
Shiao-Ping