Blueberry Banana Bread from "The Sweeter Side of Amy's Bread"
I have this book on loan from the library - makes a really yummy bread and I like the addition of oatmeal.
The loaf:
And the inside: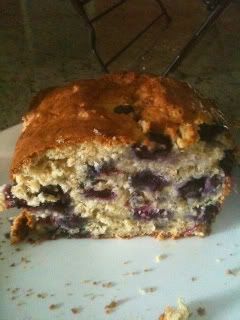 I made four loaves on Saturday. Blueberries are in season and cheap and my grocery store was selling ripe bananas in a bag for 19 cents a pound (versus the usual 69 cents a pound). One loaf was gone that day, another given to a neighbor for their housewarming party and the third eaten on Sunday, leaving the fourth to be cut into on Monday.