I'd be curious to hear about other people's favorite cookbooks, both baking related and other. Or, even broader, people's favorite food related books in general.
Probably the food related book that has been most influential on me as I put together this site is Charles Papazian's Complete Joy of Homebrewing. It is a wonderful book, one I think can be interesting even for non-brewers. It is one of the few topical books I can think of that satisfies both the beginner and the expert: I think there are very few brewers in America, both amateur and professional, who don't have a tattered copy of this book sitting around. The tone of Papazian's writing, particularly in the beginning section, is completely informal, yet there is a ton of information being covered in the book. His mantra "Relax... don't worry... have a homebrew" completely captures the tone that I strive for on this site: we're all here for the fun and the love of it. Even if you make a mistake, who cares? Laugh at it, learn from it, and move on.
Bread related, I'd definitely have to cast my ballot for Peter Reinhart's books, particularly The Bread Baker's Apprentice. Having worked in his bakery while a high school student, I can literally say that Peter introduced me to the world of artisan breads. He may not be the greatest baker to have published a baking book (though he is up there), but I haven't found anyone else who writes with the same amount of passion (for the craft) and compassion (for the amateur baker). Like Papazian, Reinhart's combination of enthusiasm, approachability, and humility is something I try to emulate here.
Finally, my "desert island" cookbook, the one cookbook I'd have if I could have no others? The Joy of Cooking, the 1960's edition with the blue cover. It has a little bit of everything in it, from bread to cookies to liver loaf to bananas in blankets (bananas wrapped in bacon?!? Wow.). For Pete's sake, it even includes diagrams on how to skin a squirrel: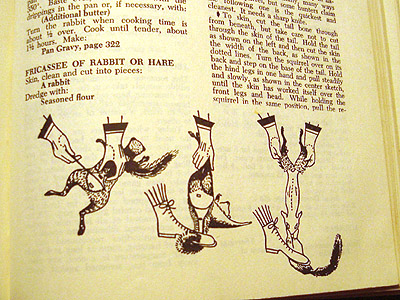 I can't say that I've ever needed it, but if I happened to find myself trapped on Squirrel Island, I'd be awfully happy I took this book with me.
What about you?