Peanut Butter & Jelly Cookies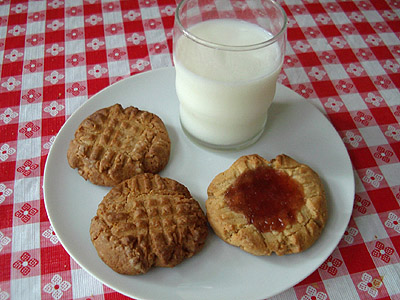 A family favorite every time.
Peanut Butter and Jelly Cookies
Makes about 18 cookies
1/2 cup brown sugar
1/2 cup white sugar
1/2 cup butter
1 egg
1 cup peanut butter
1/2 teaspoon salt
1/2 teaspoon baking soda
1/2 teaspoon vanilla extract
1 1/2 cups flour
Combine the sugars and softened butter. Add the egg and peanut butter and stir until combined. Add the salt, baking soda, and vanilla and stir in. Finally add the flour and stir until all ingredients are combined.
To shape, roll gobs of dough into one inch balls with your hands. Place the balls on a greased cookie sheet an inch or two apart. Gently press with a fork to flatten the cookies, then rotate the pan ninety degrees and press down again.
If you want to add jelly, use the back of a spoon or your thumb to make a well in the center of the cookie. Add a spoonful of jam.
Bake on the middle or upper rack of the oven at 375 for 12 to 15 minutes, rotating the pan once so that they bake evenly. Remove before the bottoms get too dark.